When Jay Cho, a legal U.S. resident from South Korea, filed green card applications for his wife and two young children in 1996, he quickly learned a frustration shared by millions of aspiring Americans: the wait time to process their visas would be years.
"Up to seven years is torture," said Cho, a 56 year-old software engineer who wanted to take a job in the U.S. and bring his family with him. "I couldn't live without them for that long."
So Cho took matters into his own hands, arranging for his family clandestinely to cross the Canadian border into the U.S. where they could live together incognito while their applications for legal residency were pending.
"My mom and my sister and I crossed over the border in the middle of the night. We just walked over across a muddy field," said Simon Cho, Jay's son, who was 5 years old at the time. "My dad was waiting on the other side of the border… and after that I grew up in the United States, living life as pretty much a normal kid."
The Cho family experience illustrates an often overlooked dimension of America's immigration system -- the lengthy and complicated legal process for immigrants who want to play by the rules, and the bureaucratic limbo that leads some to break the law while they wait.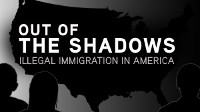 The average wait to obtain a green card for spouses and minor children of legal permanent residents is four years, according to State Department estimates. But wait times can vary widely and last as long as a decade or more, depending on overall demand, the immigrant's country of origin and annual caps on certain family member admissions.
By law no more than 114,200 spouses, children and unmarried sons and daughters of green card holders are accepted each year.
"In the 1980s it was only one or two years waiting," said Jay Cho, whose mother, a U.S. citizen, sponsored him for a green card before he married and had children.
For Cho's wife and young children, who filed applications in 1996, the wait was five years. The three received green cards in 2001 and citizenship in 2005. They currently live together in Salt Lake City, Utah.
Cho Family Highlights Challenges of Legal Immigration System
Today an estimated 4 million family-sponsored immigrants are waiting to have legal residency applications processed, according to an analysis of the most recent data by the National Foundation for American Policy.
But some immigration opponents say the long visa waiting list and the Chos' move to circumvent it reflect serious flaws in a system that gives preference to immigrants with family ties in the U.S., which critics call "chain migration." They point to an explosion of family-based legal immigration to the U.S. since the 1990s.
"The chain migration categories actually encourage more illegal immigration by creating a sense of entitlement to come to the United States," said Georgia Republican Congressman Phil Gingrey, who wants Congress to restrict green cards to skilled workers and immediate family.
"Once an extended family member applies for an immigrant visa and then is put in the visa waiting list because the categories are oversubscribed, the applicant is more likely to decide to come here illegally to await the visa," he said.
But Jay Cho says he doesn't have second thoughts about helping his wife and children skirt the system in 1996.
"Without immigration American society cannot prosper," Jay Cho said. "And, if it's inevitable to accept some immigrants -- accept them faster."