In an interview with Reuters Thursday, President Donald Trump said that while it would be preferable for there to be no nuclear weapons in the world "but if countries are going to have nukes, we're going to be at the top of the pack."
Trump, who made similar assertions in December, told Reuters that the United States has "fallen behind on nuclear weapon capacity."
"I am the first one that would like to see ... nobody have nukes," said Trump. "But we're never going to fall behind any country even if it's a friendly country, we're never going to fall behind on nuclear power."
"It would be wonderful, a dream would be that no country would have nukes, but if countries are going to have nukes, we're going to be at the top of the pack," Trump said.
The Reuters question was based on a tweet President Trump posted in December about strengthening and expanding America's nuclear weapons capability.
As of September 2015, the United States has a total of 4,571 warheads in its nuclear weapons stockpile, according to a State Department official. The United States has retired thousands of nuclear warheads that are removed from their delivery platform that are not included in this total, the official said, noting those warheads are not functional and are in a queue for dismantlement.
The 2011 New START (Strategic Arms Reduction Treaty) nuclear weapons agreement limits to 1,550 the number of nuclear warheads that can be deployed on ICBMs, submarines or heavy bombers by the U.S. and Russia. Both countries have until February 2018 to meet the New START's reduction target levels for deployed warheads.
The United States currently has 1,367 deployed nuclear weapons while Russia has 1,796. The larger Russian number is a temporary increase as Russia replaces older warheads with new ones.
The components of America's nuclear triad of Intercontinental Ballistic Missiles (ICBM's), strategic bombers, and submarine-launched ballistic missiles are decades old. While the Pentagon has undergone a modernization process to keep these systems intact over that time, the Pentagon has plans to replace each leg of the triad in the coming decades.
But the Pentagon's plans to update and modernize the nuclear triad will be a lengthy and costly enterprise. Defense Secretary Ash Carter told Congress earlier this year that it will cost $350 billion to $450 billion to update and modernize beginning in 2021. But there are some estimates that a 30-year modernization program could cost as much as $1 trillion.
And that process has gotten underway since the lifespan of the existing delivery systems ends in the next 15 to 20 years. Replacement systems are currently in the phase of research, development, testing and evaluation.
The U.S. Air Force maintains a fleet of 450 Minuteman III ICBM missiles located in underground silos across the plains states, each carrying multiple nuclear warheads. A key leg of the nuclear triad, the Minuteman III missiles went into service in the 1970's and have been upgraded ever since to keep them mission ready. No new ICBM missiles have gone into service since the MX missile was deployed in the 1980's, but those missiles were retired a decade ago.
Last summer,the Air Force began the process of soliciting designs for a new ICBM to replace the Minuteman III, with the first new missile scheduled to enter service by 2029.
The Air Force has already begun the process of replacing the 76 B-52 strategic bombers that have been flying since the 1960's with the new B-21 "Raider" that will begin flying in 2025. Upgrades to the B-52, designed in the 1950's, have allowed the aircraft to continue serving as a nuclear-capable aircraft and also allowed it to conduct airstrikes against ISIS.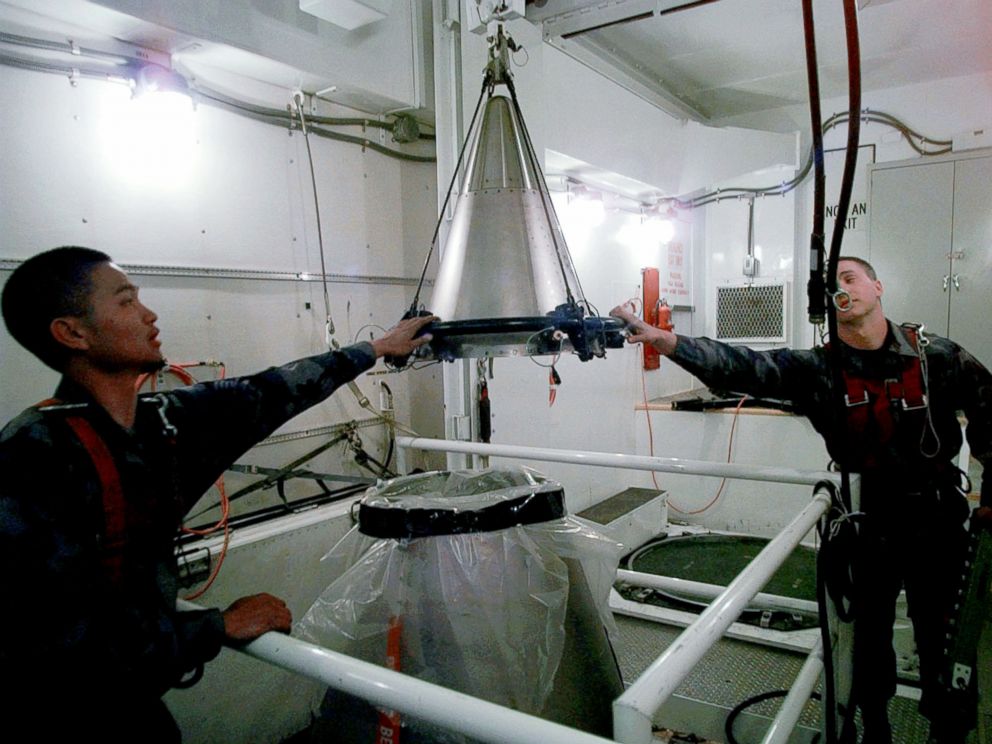 The Navy has also begun the process to find a replacement for its 14 Ohio Class ballistic missile submarine fleet that first went into service in the 1980's. But the first Columbia Class submarine is not slated to enter service until 2031.
But it is important to point out that a replacement of these systems, while incredibly expensive, does not equate to an overall growth of the nuclear arsenal.
In other words, the U.S. is looking to become more efficient -- it's not looking for more nuclear weapons. As one defense official put it, with the cost of the new systems, the Pentagon is simply not able to do a one-to-one replacement.