President Barack Obama told the graduates of Arizona State University their best achievements are still to come and titles, even one like "president," say little about success.
In his first commencement speech as president, Obama wasted no time before addressing the recent controversy surrounding his invitation from the university.
Obama started off by joking that he would address "that little controversy everyone was talking about a few weeks back."
When it was announced that he would deliver the commencement, ASU said it would not confer an honorary degree on Obama, because he had not built a "body of work" yet.
After much public debate, the university backtracked and established a scholarship in his honor. The "President Barack Obama Scholars Program" will provide up to $17,000 annually to selected ASU students.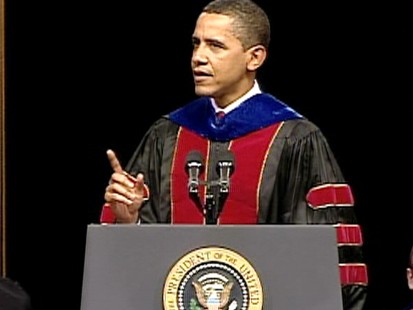 Obama, a graduate of Columbia University and Harvard Law School, did not dispute the notion that he had not achieved enough in his life.
"I come to embrace it; to heartily concur; I come to affirm that one's title, even a title like President, says very little about how well one's life has been led –no matter how much you've done, or how successful you've been, there's always more to do, more to learn, more to achieve," he said.
"I have to tell you," Obama joked. "I really thought it was much ado about nothing, although I think we all learned an important lesson. I learned to never again pick another team over the Sun Devils in my NCAA bracket. And your university President and Board of Regents will soon learn all about being audited by the IRS," he said to the 9,000 graduating seniors at the university's Sun Devil Stadium.
Obama told the graduates that while their graduation was a milestone, it is no time to rest on laurels.
"Your own body of work is yet to come," he said. "[O]ne thing I know about a body of work is that it's never finished. It's cumulative; it deepens and expands with each day that you give your best, and give back, and contribute to the life of this nation."
Obama said he was aware that the graduating class was heading into a world full of challenges – a struggling economy, two wars abroad, the threat of climate change.
The president said it would be easy to take pride in perceived symbols of success: "Being on the 'Who's Who' list or that Top 100 list… how much money you make or how big your corner office is or whether you have a fancy enough title or a nice enough car."
Chasing titles and status distracts from what is truly important.
He said that "trappings of success" may be the result of achievement in business, but "they can't be the central thing."
"Just ask Bernie Madoff," he said, referring to the disgraced Wall Street financier who pleaded guilty to running a nearly $65 billion Ponzi scheme.
Obama also said that the "relentless focus on the outward markers of success too often leads to complacency."
"It can happen to presidents too: Abraham Lincoln and Millard Fillmore had the very same title, but their tenure in office – and their legacy – could not be more different," he said.
Obama said it was not just Americans who have fallen into the complacency trap, but that United States as a nation had become "enamored with our own success," as a military and economic super-power. He evoked his familiar campaign message of change as the solution.
"So, graduates, it is now abundantly clear that we need to start doing things a little differently," he said. "That is why we are going to need your help. We'll need young people like you to step up. We need your daring and your enthusiasm and your energy."
But he was careful to explain that when he says "young," he does not mean an age but "an approach to life – a quality of mind and heart."
Obama cited examples from history of notable achievers who did not make their mark until their later years, like Julia Child who published her first cookbook when she was nearly fifty and Colonel Sanders, who opened up his first Kentucky Fried Chicken when he was in his sixties.
The president even got in a plug for the local star – quarterback Kurt Warner of the Arizona Cardinals, a football journeyman who went from stocking shelves at a supermarket to Super Bowl MVP and this year, a return trip to the championship game.
Obama will deliver the commencement address at the University of Notre Dame on Sunday and will receive an honorary degree. That decision by Notre Dame, a Catholic university, has sparked weeks of protests on campus and online from abortion opponents who take issue with the president's position on abortion and his recent actions stem cell research and international family planning.
Notre Dame has not wavered in its decision to invite Obama to speak and officials, saying the invitation does not mean the university supports all of Obama's decisions nor does it condone his positions on those issues.