House Speaker Nancy Pelosi, D-Calif., accused CIA briefers today of lying to her and other lawmakers about the use of enhanced interrogation techniques, such as waterboarding, and said she had only been informed of their use five months later.
"The CIA briefed me only once on enhanced interrogation techniques in September 2002 in my capacity as ranking member of the Intelligence Committee. I was informed then that the Department of Justice opinions had concluded that the use of enhanced interrogation techniques were legal. The only mention of waterboarding at that briefing was that it was not being employed," Pelosi said today, reading from a prepared statement.
Terror suspect Abu Zubaydah was subjected to waterboarding 83 times in August 2002, the month prior to when Pelosi was briefed about enhanced interrogation techniques.
A report released last week directly contradicted Pelosi's recollections of the briefing. The Director of National Intelligence's report indicated that the speaker was in fact briefed about such techniques used on Zubaydah -- one of three terrorist suspects subjected to waterboarding, an interrogation tactic that simulates drowning.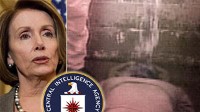 ABC News Photo Illustration
The DNI report said then-House intelligence Chairman Porter Goss, Pelosi -- who was the top Democrat on the House intelligence committee -- and two aides were told about "the particular EITs that had been employed" on Zubaydah.
Pelosi and her staff, along with some other Democrats, have maintained that House Democrats did what little they could to register objections to the use of enhanced interrogation techniques, but that the Bush administration wouldn't or couldn't be stopped.
Pelosi's remarks today provoked a stern reaction from Republican lawmakers.
"It's outrageous that a member of Congress should call a terror-fighter a liar," said Sen. Kit Bond, R-Mo., the vice chairman of the Senate intelligence committee. "It seems the playbook is, blame terror-fighters. We ought to be supporting them."
Bond questioned Pelosi's claim that the speaker could do little to influence the Bush administration, saying that when lawmakers are briefed, they can ask for more information and also voice their displeasure or disagreement to the speaker or other leaders in the House.
"It's no excuse to say, 'I was powerless.' That's what oversight is all about," he said. "There are a whole range of actions, and she did not take them."
Hoekstra Says Pelosi Lost Credibility
Rep. Peter Hoekstra, R-Mich., the top Republican on the House intelligence committee said he finds it "very difficult to believe" that intelligence officials would intentionally mislead leaders of the House intelligence committee, as Pelosi is alleging.
"What I heard her say -- and I was quite taken aback by her when she said -- was that politics are more important than national security," Hoekstra said. "That's a very dangerous precedent."
Hoekstra told ABC News earlier this week that that in his eyes Pelosi has lost all credibility on interrogation tactics.
House minority leader John Boehner said "the speaker's comments continue to raise more questions than provide answers."
"It's pretty clear that they were well aware of what these enhanced interrogation techniques were, they were well aware that they had been used, and -- and it seems to me that they want to have it both ways. You can't have it both ways," he said.