President Obama's top advisors were huddling this weekend behind closed doors to determine where his presidential agenda stands just beyond six months into office -- and what comes next.
Though the self-assessment meetings were not open to the media, Obama told the American people in his weekly address this morning that the past six months have culminated in better-than-expected economic news.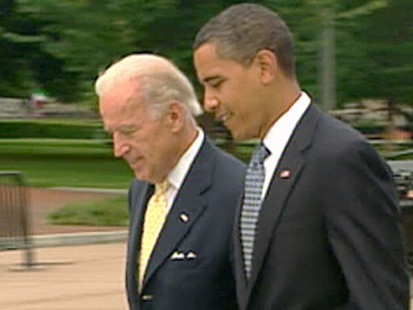 "Many economists suggest that part of this progress is directly attributable to the Recovery Act," he said. "This and other difficult but important steps that we have taken over the last six months have helped put the brakes on the recession."
Obama's aides hope that headlines reflecting positive comments like these will help rebuild waning public confidence in him, especially confidence in handling his biggest priority -- health care.
An ABC News poll in April showed that 57 percent of Americans liked his approach to health care. However, by July, approval dropped to 49 percent.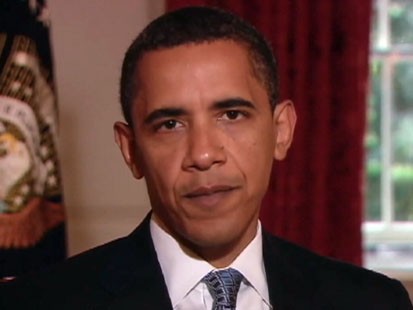 Obama was tight-lipped on the exact topics covered Friday at
an initial meeting with Cabinet-level officials over dinner at Blair House
, a government guest property near the White House, according to The Associated Press, saying afterwards only that "it went fine."
Vice President Joe Biden was expected to deliver remarks at a second day of closed-door meetings today.
Other presidents have held similar assessments in the past.
Good Economic News Could Bode Well for Health Care Debate
Perhaps the White House hopes good economic news will do a bit more talking -- and will spill over into building support for its health care reforms.
"Good economic news certainly can improve the public mood, [and] the president's reputation, enabling him to go to Congress and to argue more forcefully for health care," said Stuart Rothenberg, a political analyst.
Rothenberg said Congress would be more receptive if the president's numbers go up and the public becomes more upbeat about the future.
If consumers had the sense that the economy, including the jobs environment, was really turning around, he said it would bode very well for Obama.
"I think it would take some of the heat off Congress," Rothenberg said. "There would be less focus on deficit and debt and economic shortfalls. It would be a significant boost to the president and frankly his health care agenda."
But the economic news is not all good. Unemployment is not improving and may even get worse.
Until Americans have more jobs, analysts say Obama may not win enough public support to help him this fall when Congress again takes up health care.
"The economy will not improve soon enough to help the president with health care in September and October because unemployment will continue to rise until the new year," said Peter Morici, an economist at the University of Maryland.
What About Americans Who Have Jobs and Health Care?
The president knows he also has another problem: Many Americans who have both jobs and health care are not convinced that sweeping reforms are needed.
But come August, the president and his surrogates are expected to argue that, though you may be lucky enough to have medical coverage, you still need help because the cost of health care is rising three times faster than wages.