Lawanda Wilson was 72 when she decided to test her luck and drive from her home in Midland, Texas, to Las Vegas to visit one of her sons in the summer of 2003.
"I just thought, well, I'd just go and have a good time," said Wilson, now 79.
But she couldn't find her son's house.
Lost and disoriented, Wilson ended up sleeping in her car for days. She got back to Midland in one piece, but it was clear she was no longer capable of taking good care of herself. She wasn't eating. She wasn't taking her pills. It turns out she was in the beginning stages of Alzheimer's disease.
"I knew that my mother was starting to lose her memory a little bit," eldest son Blane Wilson said, "but I never dreamed that it would be anything like this. I didn't see it coming at all."
Blane and his brother, Scott, had promised each other that they wouldn't put their mother in a nursing home. When Blane invited his mother to come to his home, his decision came as a surprise to his new wife, Georgia.
"Five weeks," she said. "We had been married five weeks."
Georgia, a young widow, and Blane Wilson were still newlyweds when his mother came to live with them in the winter of 2004. Georgia Wilson barely knew her mother-in-law and, suddenly, they had taken on this responsibility. With her husband's three children grown, they thought they were finally going to kick back and have a little more fun in their lives. But those plans were put on hold.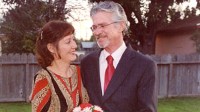 "I think about that every day," Georgia Wilson said. "How did this happen?"
The mother of four children said, "It's like adopting another child."
And, for nine months, they struggled. After less than a year of marriage, Georgia Wilson walked out.
After a brief separation, they reconciled. In 2005, the couple decided to build a small house in the backyard -- a private paradise for an aging mother. They hoped it would give them the personal space they needed to save their marriage. He used all of this mother's savings, as well as his own, to build the house, which they believed would be worth it for everyone to get along.
As Lawanda Wilson was moving into her new apartment, her daughter-in-law had high hopes that this would be a fresh start.

Click here for expert answers, resources and tips for patients and caregivers at ABC News' OnCall+ Alzheimer's disease special section.

Click here to visite the Alzheimer's Association website.
Confusion Surrounding Illness Brews Resentment
But it wasn't long before the puzzling nature of her illness became apparent. Some days she seemed self-sufficient, keeping her apartment clean, getting clothes from the drier and folding them herself. But other days she acted strangely. She would forget how to work the shower and bathe in the kitchen sink instead. And sometimes she seemed lost in a haze.
"It's the type of disease where you look at it, and you don't see it," Blane Wilson said.
Like so many other families caring for someone with Alzheimer's, Blane and Georgia Wilson found the illness confusing. It was difficult for them to tell how much she could actually do for herself, which led to frustration and resentment.
"At first ... I thought, well, how hard can it be?" the son asked.
A few weeks later, however, tensions exploded. Georgia Wilson's mistaken idea that her mother-in-law could do more to help around the house fueled more and more resentment.