Maclin became only the sixth player in NCAA history to amass more than 2,800 all-purpose yards in a season. He caught a school-record 102 passes and scored on receptions and punt and kick returns.
Honorable mention: Brad Smith 2005, Chase Daniel 2007, Chase Coffman 2009
---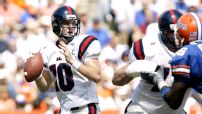 Ole Miss: Eli Manning, QB, 2003
3,600 passing yards; 29 touchdowns
Ole Miss earned a share of the SEC West Division championship and capped the season with a Cotton Bowl victory. Eli, the youngest of the Manning clan, captured the Maxwell Award as the nation's top collegiate player.
Honorable mention: Charlie Conerly 1947, Archie Manning 1969, Patrick Willis 2006
---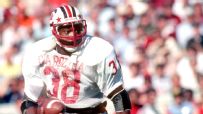 South Carolina: George Rogers, RB, 1980
1,894 yards (5.9 YPC); 14 touchdowns
The only Heisman Trophy winner in South Carolina history, Rogers led the Gamecocks to eight victories, including a win at Michigan. He rushed for more than 100 yards in every game that season.
Honorable mention: Marcus Lattimore 2010, Jadeveon Clowney 2012, Connor Shaw 2013
---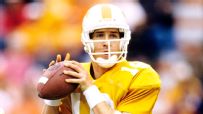 Tennessee: Peyton Manning, QB, 1997
3,819 yards, 36 TDs on 60.2 percent passing
Manning endeared himself to Tennessee fans forever when he returned for his senior season in 1997 and delivered with a record-setting farewell. He led the Vols to the first of back-to-back SEC championships.
Honorable mention: Johnny Majors 1956, Reggie White 1983, Al Wilson 1998
---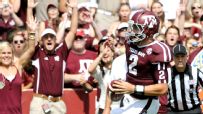 Texas A&M: Johnny Manziel, QB, 2012
SEC-record 5,116 yards of offense; 47 touchdowns
Johnny Football went from an unknown to breaking Archie Manning's SEC record for yards in a game (with 576) and Cam Newton's season record. He beat No. 1 Alabama and became the first freshman to win the Heisman.
Honorable mention: John Kimbrough 1939, John David Crow 1957, Dat Nguyen 1998
---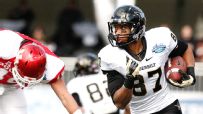 Vanderbilt: Jordan Matthews, WR, 2013
112 catches; 1,477 yards; seven TDs
While not a burner, it was hard to find a more consistent receiver. Outstanding hands and an intimidating wingspan made Matthews a terror for defenders. He led the SEC in receptions in 2013.
Honorable mention: Chris Gaines 1987, Jamie Winborn 1999, Jay Cutler 2005
---
SUN BELT
---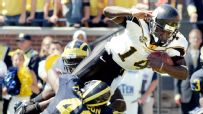 Appalachian State: Armanti Edwards, QB, 2007
3,536 yards of total offense, 38 total touchdowns
Edwards racked up bunches of yards and honors, but he is best known for his performance against Michigan, accounting for 289 yards and four touchdowns in one of the biggest upsets in college football history.
---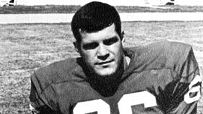 Arkansas State: Bill Bergey, LB, 1968
196 tackles (19.6 per game); 33 in one game
Prior to becoming an All-Pro performer in the NFL, Bergey shifted from the defensive line to linebacker and became a first-team All-American and first-team All-Southland Conference player.
---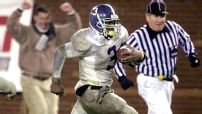 Georgia Southern: Adrian Peterson, RB, 1999
2,704 rushing yards, 40 TDs in 15 games
A year after setting the NCAA single-season rushing record by a freshman, Peterson became the first sophomore to win the Walter Payton Award as the top player in Division I-AA.
---