---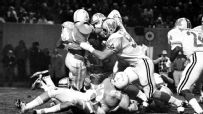 Maryland: Randy White, DE, 1974
47 tackles, 12 sacks; helped Terps notch 5 shutouts
Nicknamed the "Manster," White went full beast mode his senior season on his way to winning the Outland and Lombardi trophies. He was so dominant that he was named MVP of the Liberty Bowl despite the Terrapins' loss.
Honorable mention: Jack Scarbath 1952, Gary Collins 1961, E.J. Henderson 2002
---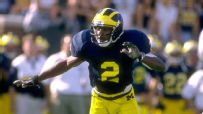 Michigan: Charles Woodson, CB, 1997
8 INTs, 9 PBUs and 4 TDs (1 rushing, 2 receiving, 1 PR)
Defensive players aren't supposed to win the Heisman, but Woodson's 1997 season was so good that he beat out Peyton Manning for the statue. Woodson starred in all phases of the game.
Honorable mention: Willie Heston 1904, Tom Harmon 1940, Desmond Howard 1991
---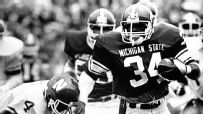 Michigan State: Lorenzo White, RB, 1985
2,066 rushing yards on 419 carries; 17 TDs
White set a Big Ten record for rushing yards in a season as a sophomore, earning the first of two top-five Heisman Trophy finishes in his career. His 419 carries that season remain the most in Big Ten history.
Honorable mention: Bubba Smith 1966, Julian Peterson 1999, Charles Rogers 2001
---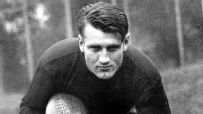 Minnesota: Bronko Nagurski, FB/DT, 1929
Led nation in rushing yards (737); All-American at FB and DT
The most dominant all-around player of his era earned first-team All-American honors at both tackle and fullback. Grantland Rice wrote, "Eleven Nagurskis [on a team] ... would be something close to murder and massacre."
Honorable mention: Bruce Smith 1941, Bobby Bell 1961, Tyrone Carter 1998
---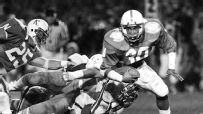 Nebraska: Mike Rozier, RB, 1983
2,486 all-purpose yards; 29 TDs
Rozier ran with a fierce style en route to Nebraska's second Heisman Trophy, punishing defenses for 2,148 yards -- at the time, No. 2 in collegiate history -- and 29 touchdowns while averaging 7.8 yards per attempt.
Honorable mention: Johnny Rodgers 1971, Tommie Frazier 1995, Ndamukong Suh 2009
---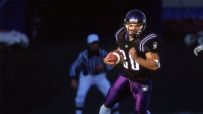 Northwestern: Damien Anderson, RB, 2000
2,063 rushing yards; 23 TDs
The spread offense arrived in 2000, and no player benefited quite like Anderson, who set team records for rushing, points, touchdowns and yards per carry. He eclipsed 1,000 yards during a five-game Big Ten stretch.
Honorable mention: Otto Graham 1943, Darnell Autry 1995, Pat Fitzgerald 1995
---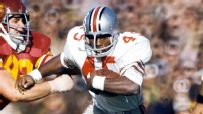 Ohio State: Archie Griffin, RB, 1974
1,695 rushing yards (averaged 143.4 per game); 12 TDs
With two Heisman Trophy campaigns to his credit, picking just one of Griffin's seasons to honor as Ohio State's best is a challenge in itself. But he was close to unstoppable in 1974, rushing for 100 yards or more 11 times.
Honorable mention: Charles "Chic" Harley 1919, Eddie George 1995, David Boston 1998
---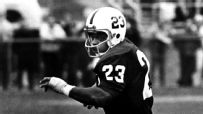 Penn State: Lydell Mitchell, RB, 1971
1,567 rushing yards; scored 29 TDs (26 rushing, 3 receiving)
The elusive, short-step runner didn't win the Heisman like John Cappelletti did two seasons later, but Mitchell averaged nearly a yard per carry more and had nine more rushing TDs.