Honorable mention: Billy Sims 1978, Adrian Peterson 2004, Sam Bradford 2008
---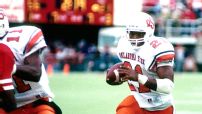 Oklahoma State: Barry Sanders, RB, 1988
2,628 rushing yards; 37 TDs; four 300-yard games
Even as we're overwhelmed by eye-popping offensive numbers of this era, Sanders' season still stands out. He broke 38 FBS records, and his 154-yard performance against Missouri was the lowest output of his season.
Honorable mention: Thurman Thomas 1987, Dez Bryant 2008, Justin Blackmon 2010
---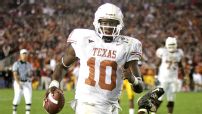 Texas: Vince Young, QB, 2005
4,086 yards of total offense, 38 total TDs
Young brought Texas its first national title in 37 years as an unstoppable dual threat who thrived in big moments, none more memorable than his 8-yard TD dash on fourth-and-5 to defeat USC in one of the sport's greatest games.
Honorable mention: James Street 1969, Earl Campbell 1977, Ricky Williams 1998
---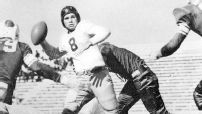 TCU: Davey O'Brien, QB/DB/P/K, 1938
1,975 total yards; 22 TDs in 10 games
He was 5-foot-7, he could throw, he could run, he could cover, and he could kick. What's not to love about O'Brien? The Heisman winner led TCU to an undefeated season and AP national title as a true every-down player.
Honorable mention: Jim Swink 1955, LaDainian Tomlinson 2000, Andy Dalton 2011
---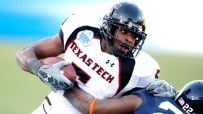 Texas Tech: Michael Crabtree, WR, 2007
1,962 receiving yards, 134 catches, 22 TDs
The greatest player in Tech history didn't take long to get started, setting FBS freshman records for catches, receiving yards and receiving touchdowns. He went on to become the first two-time winner of the Biletnikoff Award.
Honorable mention: Zach Thomas 1995, B.J. Symons 2003, Graham Harrell 2008
---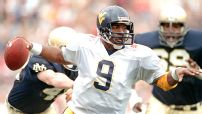 West Virginia: Major Harris, QB, 1988
2,525 yards of total offense; 20 TDs
Harris quarterbacked the Mountaineers to their first undefeated season and a matchup in the Fiesta Bowl with No. 1 Notre Dame for the national title. He led the nation in passing efficiency.
Honorable mention: Aaron Beasley 1994, Pat White 2007, Tavon Austin 2012
---
CONFERENCE USA
---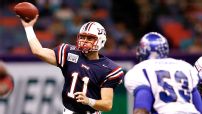 FAU: Rusty Smith, QB, 2007
32 touchdown passes, 3,688 passing yards
Smith had a hand in writing the history of FAU football, guiding the program to its first bowl game. He set the school's single-season records for TDs and passing yards on the way to becoming Sun Belt Player of the Year.
---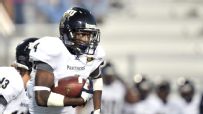 FIU: T.Y. Hilton, WR, 2011
72 catches, 1,038 yards; 23.2 yards per punt return average
A four-year starter, Hilton saved his best for last during his senior season. But what's most impressive is that he excelled against the big boys of college football, going off for 201 yards and two TDs in an upset win over Louisville.
---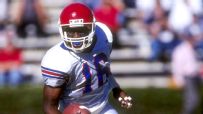 Louisiana Tech: Troy Edwards, WR, 1998
140 catches for 1,996 yards and 27 TDs
Yes, Edwards played in a smaller conference, but he was no small-time talent. The Biletnikoff Award winner was a star against every team he faced. Against Nebraska, he destroyed the Cornhuskers with 21 catches for 405 yards.
---