"I asked [Mattingly] for forgiveness as well as my teammates. It was my mistake. I'll be here early tomorrow."
-- Puig
"He felt bad he wasn't here, and I believe that. He's a good kid. Does he have to grow up and get better? Yeah, but there's a lot of guys like that."
-- Mattingly
---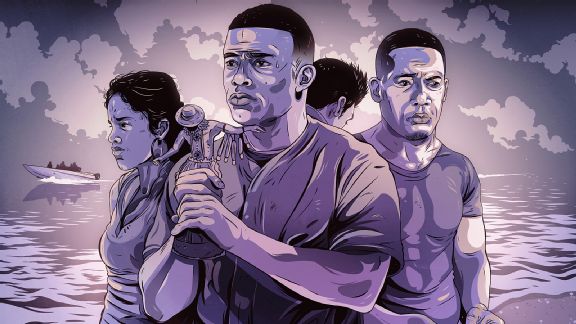 Alexander Wells
Puig issues a statement on the reports he received threats from the human traffickers who orchestrated his defection from Cuba to Mexico.
"I'm aware of the recent articles and news accounts. I understand that people are curious and have questions, but I will have no comment on this subject. I'm represented on this matter, and I'm only focused on being a productive teammate and helping the Dodgers win games."
-- Puig
---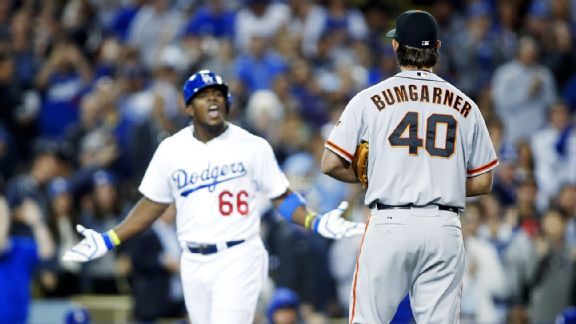 AP Photo/Danny Moloshok
Puig's 431-foot solo home run and accompanying bat flip irks Giants starter Madison Bumgarner, who plays coy in a tongue-in-cheek postgame interview.
"I was just congratulating him. That was a really good swing. That was pretty impressive. I don't know why everybody got so mad. It escalated quickly for no reason. I think he said, 'Thank you.' I'm not sure if he did. I don't speak Spanish very well."
-- Bumgarner
Fellow Giants starter Tim Hudson said he didn't mind the bat flip at all.
---
---
And Mattingly says it was nothing out of the ordinary.
"He hit it, he flipped and he ran. I'm not quite sure what he's upset about. You see guys do stuff every day."
-- Mattingly
---
Puig seeks dismissal of a $12 million lawsuit in which an incarcerated Cuban citizen blames the Dodgers outfielder for his imprisonment and subsequent torture.
---
Adam Hunger/USA TODAY Sports
In a 5-3 loss to the Mets, Puig makes a great diving catch in right-center. But Mets pitcher Carlos Torres isn't impressed, and is among those who don't care for Puig's style of play.
"For me, personally, I'm a ballplayer. I'm an athlete. I am a guy who actually enjoys the game and competing. I don't care to watch him. If you look at [Jason] Heyward's catch where he was flying through the outfield, laying out, he actually made a way better catch than Yasiel Puig's. And that was earlier in the season. But since it's not Puig, nobody cares. No one is paying attention.
"If you watch him before a ball is hit, he's just standing straight up and down. Maybe he might bend over once or twice. And he's almost never ready to field the ball. So when you're watching stuff like that, you just sit there, let him do what he does, and go from there and try to get him out when he's hitting."
-- Mets P Carlos Torres to SiriusXM
---
As Puig's one-year anniversary approaches, Mattingly proclaims Puig the best at his position.
"We feel like, right now, Yasiel is the best right fielder in baseball. This guy dominates right field. The way he plays right field, he really stops the running game from first to third."
-- Mattingly