What do a deceased cat, a 48-year-old Scottish woman and $165 million in Wall Street bonuses have in common?
For a brief moment in time this year, each of them was all we could read about, hear about or talk about.
They leapt onto the national stage, enjoyed a flash of fame and then slipped back into relative anonymity. But why were they so contagious?
In a new book, "And Then There's This," Bill Wasik, a senior editor at Harper's magazine, analyzes the appeal of the overnight sensation to help us understand why stories spread like wildfire one day and then peter out the next.
"We've always had them and they've always been a subject of public discussion," he said. "But we used to have fewer of them, they used to arrive far less quickly and they used to die out far less quickly."
Now, thanks to the Internet, viral sensations have given rise to a viral culture, he said, that counts the insta-celebrity – be it a person, video or Web site – as a key participant.
"Every day," his book tells us, "we are distracted by a culture that rings our doorbell and then runs away."
In an interview with ABCNews.com, Wasik identified some of the most recent "nanostories" to distract us in 2009. Here they are.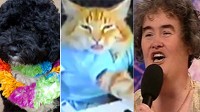 Keyboard Cat
It started with a decades-old video clip of a cat appearing to play the keyboard. But when a video-savvy 22-year-old married that clip with another of a person falling down an escalator, an Internet sensation was born.
The user-generated video meme has attracted the interest of millions, including comedian Stephen Colbert.
According to The Associated Press, the recent craze was put in motion by Brad O'Farrell, a syndication manager for MyDamnChannel.com, in February.
Since then, hundreds of copycats have combined a video clip of a person in the middle of embarrassing accident with the clip of the keyboard cat (actually a cat named Fatso, who's said to be long dead). Fatso's performance is meant to ostensibly play the person "off the stage."
"It is really great example of the remix culture," Wasik said. Once people saw how hilarious it was, they went off to make their own videos to "advance the absurdist march of who else the keyboard cat could play off," he said.
The Obama Puppy
Who doesn't remember the moment the president promised his daughters a puppy in his inaugural address? Even before the first family had settled on a breed, the new puppy had captured nearly as much attention as the president himself.
Wasik said that part of our obsession with Bo – even before there was a Bo – came from our desire to connect with history.
"This was the classic example where you have this very historic moment but the way that people want to appreciate that moment is through something that's very small and funny and personal," he said.
Online polls hosted by blogs, kennel associations and even this Web site, attracted thousands who wanted to help the Obamas pick the breed.
"For this brief intense period of time, we really cared about what kind of puppy the Obamas would get," Wasik said.
But, he also pointed out, by the time the new puppy finally arrived much of the interest had already died down.
The AIG Bonuses
In a similar way, Wasik said, the AIG bonuses – and all the outrage they engendered – also become a focal point for a far greater issue.