Toby Zerner, Brodie Syrus and two of their friends are playing 60-plus hours of video games in the name of charity.
Their goal is to raise $10,000 for the non-profit organization charity: water by broadcasting their "struggle through some of the worst games released in history."
"They are mostly old games. One of the most well-known ones is Superman on Nintendo 64," said Zerner. "It's a really, really good cause. About one in eight people in the world don't have access to clean and safe drinking water, which is something we take for granted."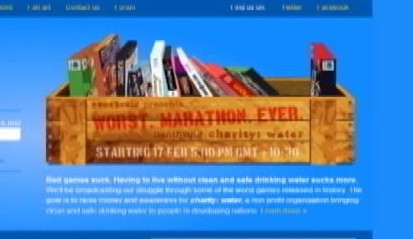 The four teenagers have 22 hours to go and have raised $5,100. On their website
gametoaid.org
, supporters can participate in a continuous chat, watch a live-stream of the games being played, see how much money has been raised, how much time is left and donate to the cause.
"100 percent of public donations go directly towards water projects and all the administrative costs and credit card fees and things like that are covered by private donors," said Zerner. "We can assure all of our viewers that all of their money is going to where it is needed the most."
Zerner and Syrus are no strangers to this strenuous test of endurance and finger agility. Last year in a 72-hour gaming marathon they raised $4,186 for World Youth International.
They say they were inspired by other marathons like extralives.org and Mario Marathon so they created their own. On their website they encourage anyone interested in doing the same to contact them.