High winds blowing up to 135 miles per hour have elevated Hurricane Bill to Category 4 status today as it continues to travel through the Atlantic Ocean.
Forecasters say the storm could grow stronger, though it's too soon to know if it will be a threat to people living in Bermuda or on the East Coast of the United States.
So far it looks like the hurricane could remain offshore, though potentially passing near Bermuda as early as Saturday.
Late summer beachgoers should nonetheless take heed Saturday along the Mid Atlantic coast and Sunday in New England as the storm travels offshore.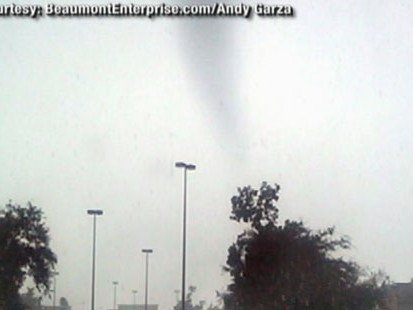 "That's when we're going to start seeing the main impact of very large swells that will give you rip currents, issues at the beach," National Hurricane Center Director Bill Read said today. "And being in the summertime season and people wanting to go out and enjoy the beach weather, the waters are going to start getting dangerous."
Hurricane Bill's Path
As of late Wednesday morning, Bill was a wide storm with hurricane force winds extending some 80 miles from its center, the National Hurricane Center reported. The storm was centered about 380 miles east-northwest of the Leeward Islands, more than 1,000 miles southeast of Bermuda, making its way west-northwest at a speed of 18 miles per hour.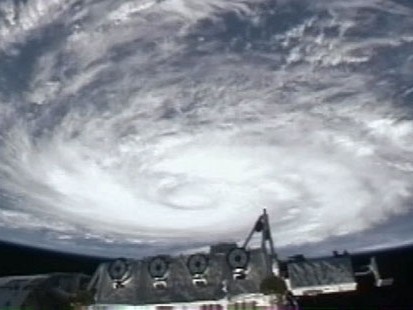 "Large swells associated with Bill will be impacting the islands of the northeast Caribbean Sea during the next day or two," the National Hurricane Center advised late this morning. "Large swells associated with Bill should also begin to affect Bermuda and portions of the eastern coast of the United States Friday and Saturday."
That could mean a rainy, windy and potentially dangerous weekend in Bermuda, where it could arrive early this weekend at the speed it's going.
Forecast models show the hurricane could then deviate from its current course, taking a more northern turn Friday. That would keep the storm farther out at sea rather than closely hugging the Eastern seaboard.
Though storms gain strength in warm water, it could calm down in the chillier ocean to the north.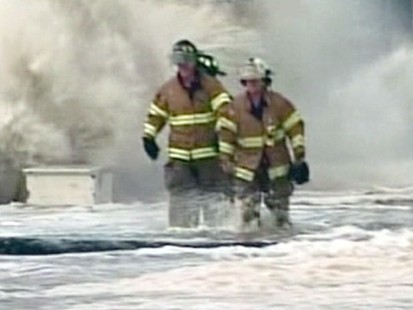 Still, where it swirled Wednesday, "the wind shear is light and the waters are warm," Todd Kimberlain, a forecaster at the National Hurricane Center, told the Associated Press. "Those are two essential ingredients not just for the formation, but also the maintenance, of hurricanes."
Bill Marks Atlantic Hurricane Season's Late Start
Bill is the first official hurricane of the storm season -- a season that got off to a late start.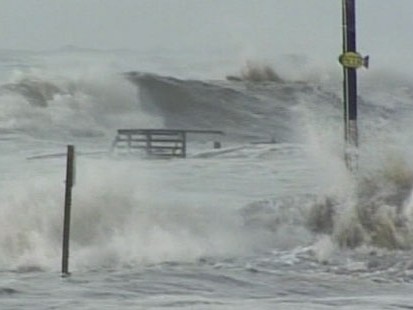 Ten weeks of the Atlantic hurricane season passed without a storm before
three storms were named in a span of 30 hours
last weekend.
Hurricane Bill earned a name Saturday when it became a tropical storm. By Monday morning, it was deemed the first hurricane of the Atlantic hurricane season.
Tropical Storm Ana, the only storm named before Bill, weakened in the Caribbean Sunday night.
Over the weekend, Tropical Storm Claudette also became less of a threat after making landfall early Monday morning on Fort Walton Beach, Fla., bringing heavy rain. Claudette formed quickly Sunday morning on the Gulf of Mexico and made landfall just 18 hours later.
That leaves Bill to watch.
"I think Claudette is a warning shot," Accu-Weather's Joe Bastardi told ABC News Monday. "The Gulf is more primed than usual for intensification this year."
Indeed, 1992's Hurricane Andrew is a stark reminder that a late hurricane season does not mean people are in the clear. In August of that year, Andrew brought widespread destruction. It was the first named storm of that season.
"It's not unusual to have a late start," Max Mayfield, former director of the National Hurricane Center, said Monday. "The truth is that there's no real correlation between when the season actually starts with that first named storm and how much activity we ultimately have."
ABC News' Jeffrey Kofman, Jan Simmonds and The Associated Press contributed to this report.