For high school senior Ali Read of Bristol, Conn., the summer of 2007 is seared in her memory.
That July, David Nocera, 17, a fellow student at Bristol Central High School, was killed in a car crash. Three weeks later, four more local teens died in a car crash on the way home after swimming at a friend's house. In both cases, the students were traveling at night, going faster than the speed limit.
"We are all just so surprised when the accidents happened," Read said. "As teens, we tend to think that we are invincible and do not realize that we are driving a two-ton bullet."
After the accidents, "I wanted to do everything I could to help keep myself and others safe," Read told ABCNews.com.
So she helped found her school's chapter of Teens in the Driver's Seat to help curb what she calls an "epidemic."
The program, started in 2003, is the first peer-to-peer safety program for young drivers. Russell Henk, a researcher at the Texas Transportation Institute, developed the program after a string of teen crash fatalities -- a total of 10 deaths in six weeks -- in San Antonio.
Last week in Bristol, Read helped organize "Grim Reaper Day": A gong sounds over the loudspeaker periodically, and the Grim Reaper appears in a classroom to remove a student. The student, who later emerges with his or her face painted white, is not allowed to speak for the rest of the day. The Grim Reaper claimed 16 victims, representing the 16 teens who would be killed that day in an automobile crash in the U.S.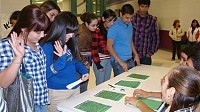 Each year, more than 6,000 teens will die in car crashes, making it the single greatest cause of death for teens in the U.S., according to the Centers for Disease Control and Prevention.
Currently, there are 315 high schools in Texas and a dozen more in Georgia, Connecticut and California that have Teens in the Driver's Seat programs, which reports reaching nearly 352,000 students.
One of the program's primary goals is making teens aware of the top five hazards while driving.
"In the past, the general focus has been on the dangers of not wearing a seatbelt and driving under the influence of alcohol," spokesman Bernie Fette told ABCNews.com.
But, added Fette, seatbelts and alcohol are at the bottom of the list. Ahead of them are: driving at night, distraction and speeding.
New drivers often have an inflated sense of their own capabilities, says Emma Leiblich, a junior at Roswell High School in Roswell, Ga. "Kids feel overly safe when in the driver's seat."
Driving While Drowsy
The hazards of speeding are obvious, but other factors in teen deaths on the road may come as a surprise.
"A lot of people are oblivious to the fact that most accidents happen at night," Ashley Thompson, a junior at Keller High School in Keller, Texas, and member of the Teens in the Driver's Seat advisory board, said.
"Young drivers just do not have enough practice to be good at it," Fette said.
Drowsydriving.org, a division of the National Sleep Foundation, reports that being awake for 18 hours is equivalent to a blood alcohol concentration of 0.08 percent -- legally drunk in most states.