In Mexico, the Baja border country would seem to have everything going for it. It has soft breezes for the boats and waves for the surfers; it's very cheap; and it's all within 100 miles of California.
That's the way it was for Pat Weber and his girlfriend Lori Hoffman, two surfers from San Diego, who said that Baja was like a second home and they loved it.
"I have 600 blissful days in Mexico, and one really bad one," Weber said.
That one bad trip ended their cross-border visits to paradise.
Two masked, heavily armed, flak vest-wearing bandits ransacked the couple's RV, stole their money and sexually assaulted Lori.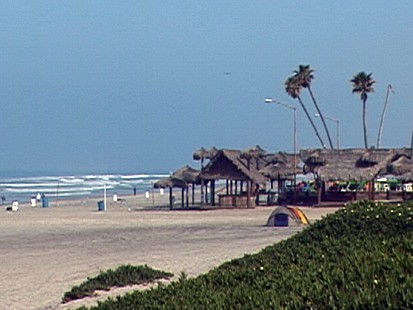 "They shot up the RV to gain access," Weber said. "We both hit the deck while gas was flying. How much worse does it get than 45 minutes with a gun to your head."
The story Weber and Hoffman told is one of a changing Baja California. Now the FBI is warning vacationers that innocent citizens can become victims of assault and kidnapping for profit.
As the Mexican government tries to crack down on narco-terrorism, the FBI says the cartels have branched out.
"The disturbing part to us is the innocent victims, no connection to the drug trade, no connection to any other aspect of their business," FBI Special Agent in Charge Keith Slotter said. "They are being kidnapped simply because it's become a money making operation for them."
Some of the ransom calls that have been recorded by the FBI are terrifying.
One San Diego woman said she received a call from someone saying "we have your husband, we want $2 million."
The woman, who asked that her identity not be revealed because she fears for her safety, is married to a pharmacist who worked across the border in Baja. Her husband hasn't been heard from since 2006, despite an attempt by the woman to have him freed by paying a ransom demand.
"It was late at night, I had to get in my car by myself, with the bag of money and they asked for a change of clothes for my husband," the woman said.
But despite her efforts, she never saw him and the money was gone.
According to the FBI, nearly 50 Americans have been kidnapped along the border in the last two years.
A travel alert issued this fall only advises U.S. citizens to be low-key and careful, but people who have direct ties to the violence, including Lori and Pat advise avoiding the region.
With the current threat of violence, they say, it can't be paradise.