A routine traffic stop ended in murder on the day police officer Bruce McKay pulled over Liko Kenney.
According to authorities, on May 11, 2007, Kenney, then 24, was speeding on Route 116 in Franconia, N.H. He continued to drive even as McKay's car followed him in pursuit. Finally, McKay stopped Kenney on the road. After he approached the car, McKay sprayed Kenney with pepper spray. When he turned to walk back to the police car Kenney pulled out a .45-caliber semi-automatic pistol and fired seven shots, hitting McKay four times, according to Assistant Attorney General Jeffrey Strelzin.
Almost the entire incident was recorded on the dash camera in McKay's police car. The footage was posted online and has been viewed more than a million times.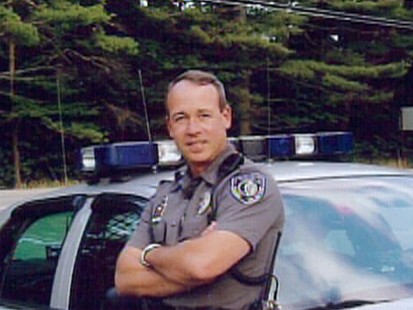 A Tough Image and a Kind Heart
With a population of around 1,000, Franconia has only three full-time police officers which meant many people in town and nearby knew McKay.
"There are people that are supporters of Bruce and see him as a hero, and there are people who didn't agree with who he was, what he stood for," said McKay's fiance Sharon Davis-McKay, who took his name after his death. "His idea was that everything was black and white. Either you were following the law or you weren't. There were no gray areas."
"I think there are people out there who thought that Bruce McKay was kind of a hard-ass," said Strelzin. "He was somebody who was a stickler."
Despite what some perceived as a tough image, McKay was also known to help people out of the kindness of his heart, said Davis-McKay. During more than 11 years on the force, McKay received nearly 30 commendations. But during that time nine people also filed complaints about him.
'Every time I Saw Him He Was Happy'
When Rob Hayward, one of Kenney's friends, looks at the video he sees "a young guy who has been harassed a number of times and really, really believed -- because he told us -- that they were going to get him."
Kenney often expressed these fears to Cheryl Brusseau, a co-worker at a local nursery where Kenney worked.
"He said that something was going to happen," said Brusseau. "When I first met him, he had told me that he was not going to live past 30. Always in the back of his mind there was somebody harassing him." Nevertheless, she said, Kenney always seemed happy.
"Every day I saw him he was happy, funny, told millions of jokes," she said. "He was a gardener. He planted for his mother; he was raising baby chicks and fish, so he was really earthy."
Even so, Kenney had a rebellious side that may have contributed to his long-standing feud with McKay. Four years before the killing, another incident between the two was captured on tape. During that encounter Kenney refused to show his driver's license to McKay. When McKay called for backup the officers, with great difficulty, handcuffed Kenney, who later accused the officers of torturing and molesting him.
At some point Kenney bought the gun that would be used in his fatal encounter with McKay.
'It Should Never Have Happened'
A pickup truck that was driving along Route 116 the day McKay died had stopped in the distance. The passengers inside, Gregory Floyd Sr. and his son Gregory Floyd Jr., had watched the scene unfold.
"I turned my head for a second and heard bam," said Floyd in his police interview. But it didn't end there.
McKay had run across the road and gone up about 30 feet off the road and on to the grass. Liko Kenny pursued him across the road in his car, ran up off the road, and struck him twice with his car, said Strelzin.
Floyd Sr. told his son to drive across the road to try to assist McKay by calling for help using the radio in his police cruiser. Then Floyd said he grabbed the officer's gun and approached Kenney. Kenney was still inside his car fiddling with the gun. Floyd told him to stop and put the gun down. Kenney looked at him but didn't stop. Floyd then fired his gun twice and killed Kenney, said Strelzin.
"Its just so hard because it should never have happened. He was so scared during those moments. I've never seen anyone so scared," said Caleb Macauley, Kenney's passenger at the time who witnessed the murder.
Some in Franconia call Floyd a vigilante but under New Hampshire state law the attorney general found that Floyd was justified in using deadly force to protect McKay and himself.
Asked if she believed Kenney got what he deserved, Davis-McKay replied, "I can't answer that. I don't think anybody deserves a violent death."