ABC NEWS, THIS WEEK WITH GEORGE STEPHANOPOULOS INTERVIEW WITH PRESIDENT BARACK OBAMA.
GEORGE STEPHANOPOULOS, HOST: Mr. President, thank you very much.
BARACK OBAMA, PRESIDENT OF THE UNITED STATES: Thank you, George.
STEPHANOPOULOS: Probably the most definitive promise you made in the campaign is that no one in the middle class would get a tax increase on your watch.
OBAMA: Right.
STEPHANOPOULOS: Yet this week, Senator Rockefeller and several other Democrats say that this bill by Senator Baucus is a big middle class tax increase.
Do you agree and does that mean you can't sign it?
OBAMA: Well, I don't agree. I think that what they were referring to – and I haven't looked at the quotes. But I think that they were concerned about whether or not this was actually affordable. If you're saying to people, you've got to get health insurance but they can't actually afford it and they have to pay a penalty if they don't get it, then that's a pretty big burden on middle class families. That's a concern I share -- making sure that this is affordable.
But the first thing we've got to understand is you've got what is effectively a tax increase taking place on American families right now. The Kaiser Family Foundation report just came out last week. Health care premiums went up 5.5 percent last year, at a time when the rest of the economy, inflation was actually negative. So that is a huge bite out of people's pockets.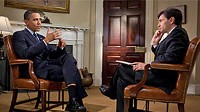 Official White House Photo by Pete Souza
And part of what I've been trying to say throughout this campaign – this effort to get health care done -- is that if we don't do anything, guaranteed, Americans' costs are going to go up, more people are going to lose health care coverage, the insurance companies are going to continue to prevent people from getting it for pre-existing conditions. Those are all burdens on people who have health insurance right now. And...
STEPHANOPOULOS: That is true, but...
OBAMA: And so -- and so -- just -- just to close the loop on this, the principles I've put forward very clearly, when I spoke to the joint session of Congress, is that we're going to make sure that, number one, if you don't have health insurance, you're going to be able to get affordable health insurance.
Number two, if you have health insurance, we're going to have insurance reforms that give you more security -- you know what you're going to get. You know that if you're paying your premiums, you're actually going to have coverage when you get sick.
Number three, it's going to be deficit neutral -- it's not going to add a dime to the deficit, now or in the future.
Number four, it's going to start driving down our costs over the long-term.
Now, 80 percent of what I'd like to see is actually already in all the various bills that are in Congress. That last 20 percent is tough because we've got to figure out -- making sure that we're paying for it properly, making sure that it really is relief to families who don't have health insurance, making sure that all the various details that are out there line up. And that's going to take some time.
But I think that the effort by the Senate Finance Committee is a serious, strong effort to move an agenda forward. We've seen some positive signs from people who might have been otherwise a little bit shaky on health care, including Republican Olympia Snowe, I think, had some nice things to…
STEPHANOPOULOS: Hasn't signed on yet, though.