ABC'S "THIS WEEK WITH GEORGE STEPHANOPOULOS" MAY 17, 2009
SPEAKERS: GEORGE STEPHANOPOULOS, HOST
SEN. JON KYL, R-ARIZ., SENATE MINORITY WHIP
SEN. JIM WEBB, D-VA.
[*] STEPHANOPOULOS (voice over): Good morning and welcome to "This Week."
Harsh charges from the speaker.
(BEGIN VIDEO CLIP)
REP. NANCY PELOSI, D-CALIF., SPEAKER OF THE HOUSE: We were told that water-boarding was not being used. The CIA was misleading the Congress.
(END VIDEO CLIP)
STEPHANOPOULOS: Course corrections from the president...
(BEGIN VIDEO CLIP)
PRESIDENT BARACK OBAMA: I fear the publication of these photos may only have a chilling effect on future investigations of detainee abuse.
(END VIDEO CLIP)
STEPHANOPOULOS: ... and a P.R. blitz from the former V.P.
(BEGIN VIDEO CLIP)
FORMER VICE PRESIDENT DICK CHENEY: We'd successfully defended the nation for 7 1/2 years. I believe it was possible because of the policies we had in place.
(END VIDEO CLIP)
STEPHANOPOULOS: Is Cheney right? Is Pelosi in trouble? Are Obama's choices making us more safe?
That debate, this morning, with two key senators, Republican whip Jon Kyl and Democrat Jim Webb. Plus, an expanded powerhouse roundtable with George Will, Democratic strategist James Carville, John McCain's campaign manager Steve Schmidt, Katrina Vanden Heuvel of the "Nation," and the former State Department official now joining her father on the front lines, Liz Cheney -- and, as always, the Sunday funnies.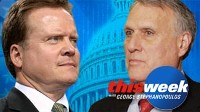 ABC News Photo Illustration
(BEGIN VIDEO CLIP)
JAY LENO, HOST OF "THE TONIGHT SHOW": She spent eight years telling everyone how dumb President Bush is and then, the minute you're trouble, "He fooled me!"
(LAUGHTER)
(END VIDEO CLIP)
ANNOUNCER: From the heart of the nation's capital, "This Week," with ABC News chief Washington correspondent George Stephanopoulos, live from the Newseum on Pennsylvania Avenue. STEPHANOPOULOS (on camera): Hello again. It has been a week full of accusations, confrontation, recalibration and new calls for investigation here in Washington -- just another week.
And with apologies for that burst of rhyme, we welcome our headliners to this morning's debate, Democratic Senator Jim Webb of Virginia and the Senate's Republican whip, Jon Kyl of Arizona.
Gentlemen, welcome to you both. And there is so much to talk about this week. But let's start with that war of words between speaker Pelosi and the CIA. She says the CIA lied about these 2002 briefings. Leon Panetta came out on Friday, said, no, they told the truth.
And former Speaker of the House Newt Gingrich has weighed in, saying that this is despicable behavior, take a look.
(BEGIN VIDEO CLIP)
NEWT GINGRICH (R), FORMER HOUSE SPEAKER: I think she has lied to the House and I think that the House has an absolute obligation to open an inquiry. And I hope there will be a resolution to investigate her. And I think this is a big deal.
I don't think the speaker of the house can lie to the country on national security matters.
(END VIDEO CLIP)
STEPHANOPOULOS: Senator Kyl, how big a deal is this and how should it be investigated?
KYL: Well, it is a big deal, obviously. She is the speaker. And at that time she was the ranking member of the Intelligence Committee. And she was one of four people who got the briefings. And it is pretty clear that Leon Panetta, her former colleague in the House from California, now CIA director, totally disagrees with her recollection of events.