It's only April, but it has been quite a year for travelers Neville and Catherine Hockley.
They've seen Panama and transited the famed canal. They've set out into the Pacific Ocean for the first open-water leg of their around-the-world journey. The latest stop on their sailboat "Dream Time"? An exploration of the isolated Galapagos Islands.
Read the latest excerpts from the Hockleys' adventure below and visit the boat's Web site to learn more about their journey.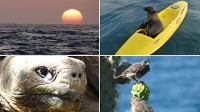 March 24, 2009. Day 663: Galapagos Islands
Neville Hockley wrote:
As it turns out, 2009 is a very special year for the Galapagos. So much, in fact, that the Prince of Wales, Prince Charles, and his wife, the Duchess of Cornwall, graced the islands with their royal presence just a few days ago, participating in the celebration of the birthday of Charles Darwin, who was born 200 years ago. To add to the excitement, it is also the 150th anniversary of Darwin's masterpiece "The Origin of Species" (much of his research and theories were greatly influenced by the unique animals found in the Galapagos) and it is also the island's 50th anniversary in becoming a national park. So, not wanting to miss out on all the fun and festivities, Catherine and I took a special two-day excursion over to Santa Cruz Island to celebrate the anniversaries and to visit the Charles Darwin Foundation Headquarters for ourselves.
About 40 miles from San Cristobal, Santa Cruz Island has the main port of entry for the Galapagos and is home to approximately 10,000 residents -- the majority of people living on the islands.
The most famous resident of all is Lonesome George. Lonesome George, sadly, is the last surviving tortoise of his particular kind and when he's gone, his variety of tortoise, which could only be found on Pinta Island, will be gone from the world, forever! Poor George, from what I understand, is only 85 years old, barely middle aged. So in an effort to try and save this tortoise from extinction, the Darwin Foundation has introduced two hottie tortoises from Wolf Volcano (on a neighboring island) that are genetically closely related to George, and have been given instructions to seduce the lonely fellow in an effort to create lots of new little Georges. Unfortunately, their efforts, thus far, have failed. Perhaps it's the stress of performing under pressure or, more than likely, George's solitary existence. Whatever it is, Lonesome George isn't interested.
The signage next to George's corral hinted, as a last resort, that George might have to be cloned. Even though it's a very costly procedure and the odds of a successful clone are extremely slim, the Darwin Foundation is, nevertheless, considering the option. I wonder what old Mr. Darwin would make of that?