The list of what is known for sure about the crash of Air France flight 447 grew longer today as France's investigation bureau said the plane was intact when it plunged into the Atlantic Ocean, and there was no trace of fire or explosive found amid the plane's debris.
Those facts were among several announced today when investigators from the Bureau D'Enquetes et D' Analyses, France's equivalent of the National Transportation Safety Board, released its first factual report on the crash.
Watch "World News With Charles Gibson" tonight at 6:30 ET for the full report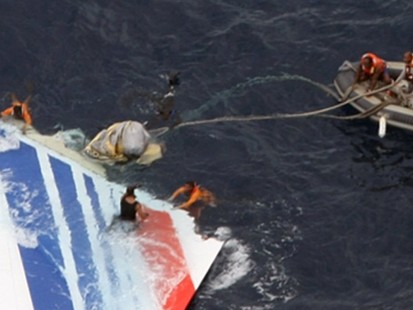 The latest developments include the following:
Investigators were able to determine that the plane was intact when it hit the ocean on its belly after leaving Rio de Janiero May 31 en route to Paris.
"In particular, examination of the tail fin indicates that it did not break up in flight, but upon point of impact," said Alain Bouillard, BEA's head of investigation, speaking today through a translator. "It hit the water in line of flight with a very high vertical acceleration."
None of the plane's life vests were inflated.
No traces of fire or explosives have been detected in the recovered debris. Experts had previously said bodies were not burned, which suggests there was not an explosion.
Faulty speed sensors, called pitot tubes, are not the sole factor that caused the crash. Accident investigators had said that speed sensors malfunctioned on the flight, and the problem could have caused the plane to fly dangerously slow or fast.
Today Bouillard said, "We do not yet have any direct link between the pitot tubes and the cause of the accident."
The investigators did not say what other factors may have contributed to the plane's crash.
"We're far from establishing the causes of the crash" Bouillard said.
Also today, investigators painted a more detailed picture of what the flight crew was up against before the accident. They said the crew tried three times to contact Senegal air traffic control, but were not successful. The Brazilian airport had not given Senegal the flight plan for AF447.
Black Box Hunt Continues
The two most important clues to the mystery -- the flight data recorder and cockpit recorder, known as the plane's black boxes -- have still not been recovered.
The hunt for the black boxes will continue until July 10.
Black box batteries are required to last 30 days, and it's already been more than one month since the flight went down. But investigators are hopeful that their pinging signals have not yet faded entirely, and search teams are racing against the clock to find the flight's most vital clues. The company that makes the black boxes said they could emit pinging sounds a little bit longer than 30 days, but will eventually fade out.
Even this late in the game, the search for the black boxes is not a lost cause. Cutting edge technology could help searchers hone in on the specific underwater spot where clues might lie.
John Springer, sales manager for Dukane Corp. Seacom Division, the company that manufactured the flight's black boxes, said the search equipment can sift through noises in the ocean because it knows what to look for -- much as party guests can do at a loud gathering if they know the sound of a friend's voice.
"By knowing exactly what they're saying or what the person's saying, you can get closer to that person and you can hear them and you eliminate all the sound in the back," he explained.
Black boxes also emit a pinging sound once every second, whereas "noises in nature are usually not that consistent in their repetition," Springer said.
The world's best teams and equipment are in the remote Atlantic Ocean trying to detect the signals. The French nuclear sub Emeraude, equipped with high-tech sonar equipment, is listening for the acoustics, as is a U.S. Navy underwater listening device that can pick up the pinging sound from the black boxes at depths of 20,000 feet. A French research vessel, the Pourquoi Pas, is on hand with underwater robots to retrieve the black boxes if the signals are heard.
See ABC News photo gallery of the search effort here.
Watch ABC News Video on the Crash:
Air France Crash Questions Sensor Safety (June 9, 2009)
Search Intensifies for Black Boxes (June 8, 2009)
Plane Disappears Off Radar (June 1, 2009)
Read ABC News Stories on the Crash:
French Sub Joins Black Box Search (June 10, 2009)
Carriers Rush to Replace Speed Sensors (June 9, 2009)
Jet's Tail Could Lead to Answers (June 8, 2009)
Air France Official: 'We Can Fear the Worst' (June 1, 2009)

Air France 447: New Phase of Search Begins in Mid-July
A new phase of the search will begin sometime between July 14 and July 20. Only the Pourquoi Pas will participate in that second phase, using its underwater robots with sonars to look for more debris. That phase will continue until Aug. 15. The U.S. will drop out of search efforts on July 10.
Searchers still hope they can find the black boxes during that second phase with the underwater robots. But it's a challenge to search the area's rugged underwater mountain range, and investigators still haven't found the debris field beneath the ocean's surface.
"That's really where -- chances are -- the pingers, recorders, are going to be," Springer said. "They're going to be in the debris field. So actually what they're looking for right now is a debris field."
Evidence Recovered
Fifty-one bodies of the 228 people onboard have been recovered during the search. Investigators said they've identified more than a dozen of those bodies, including those of the pilot and a flight attendant who were among those that were identified last week.
Searchers have also collected 640 pieces of debris, including a large chunk of the stabilizer from the plane's tail, wiring, an airline seat, a boarding pass, personal belongings.
Airline Safety Measures Taken Since the Crash
Last week, the National Transportation Safety Board said it was investigating two other incidents involving Airbus A330 planes like the one that crashed. The safety board wants to learn more about reported problems with airspeed and altitude information. It's known there were faulty airspeed readings on the Air France flight before the accident, and that's been one focus of the investigation.
Air France has replaced speed sensors on its planes. Airlines, including Delta, US Airways and United are also rushing to finish replacing their sensors, a noncritical change recommended by Airbus 17 months ago. Faulty speed readings can cause the jet to fly dangerously slow or fast.
Status of Possible Causes and Problems
Speed speculation: Despite concerns about the sensors, Agence France-Presse reported several weeks ago that there was "still no established link" between those pieces of equipment, called pitot tubes, and the crash, according to a BEA spokeswoman.
In mid-June, Pierre-Henri Gourgeon, Air France-KLM managing director, said that despite evidence of faulty sensors, "We cannot, however, assume any link between the sensors and the causes of the accident."
Airbus recommended replacing the speed sensor a year and a half ago after reports that they'd malfunctioned or iced over, but it wasn't an urgent problem. On Monday, June 8, Airbus sent a note to its customers specifying that the Airbus A330 and A340 were "safe," even if still equipped with the older speed sensors. The sensors had not yet been changed on Air France Flight 447.
The terrorism hypothesis: Reports surfaced June 10 that two passengers on the plane had the same names as radical Muslims on France's watch list. French interior ministry spokesman Gerard Gachet denied this lead to ABC News the same day. Federal police in Rio said June 5 that they had confirmed all passengers on the flight had been checked as part of the effort to rule out terrorism.
But it's too early to rule out terrorism entirely, officials have said. On June 5, French Defense Minister Herve Morin said there was "no element or lead that would allow to corroborate this, but the ongoing investigation never ruled out this because the main threat today against our democracies is terrorism."
A bomb threat on an Air France flight from South America to Paris fueled speculation about terrorism, but there is no evidence of a similar threat to the accident flight. The threatened May 27 flight from Buenos Aires to Paris was inspected before takeoff and was allowed to depart after investigators found nothing of concern.
Weather worries: Meteorologists say the plane's flight path would have taken the jet right through a series of towering thunderstorms. High thunderstorms that develop quickly are common over this part of the ocean and would have been difficult to fly above. Aviation experts have said it would be exceedingly unusual for lightning alone, or severe turbulence alone, to bring the plane down, but have said it's possible weather may have played a part. The jet was equipped with sophisticated radar to help dodge troublesome storms.
The pilot sent an electronic text message to the airline saying the plane was flying through turbulent weather. That was in an area called the Intertropical Convergence Zone and it is known for thunderstorms and stormy weather.
A series of 24 automated messages over four minutes was sent from the plane shortly before it vanished, documenting a series of systems failures including lost cabin pressure and electrical failure. The messages also indicated variable speed readings, possibly indicating a problem with the instruments that measure the speed of the aircraft.
The plane's last communication came nearly four hours into its journey.
More from ABC News on airline safety:
Young Crash Survivor Arrives in Paris (July 2, 2009)
Plane Lands After Pilot Dies In-Flight (June 18, 2009)
FAA Holds Regional Airline Safety Summit (June 15, 2009)
Capt. Sully Sullenberger Recounts Landing on Hudson River (June 9, 2009)
Regional Airlines Under Scrutiny (May 14, 2009)
The Black Holes of Plane Crashes (June 4, 2009)
Fear of Flying Causes Families to Split Flights (June 4, 2009)
ABC News' Lisa Stark, Zoe Magee, Ammu Kannampilly, Renata Araujo and The Associated Press contributed to this report.