When are Thanksgiving and Christmas – like Halloween? When you have to fly. Yes, 'tis the season for potential Holiday Horrors.
But it doesn't have to be that way.
Let's jump right in, shall we, and see how to survive traveling the not always friendly skies during the holiday season – with sanity intact. Follow our Six Holiday Air Travel Tactics, which take little or no preparation, and you'll be good to go.
Tactic No. 1: Find the Best Possible Tickets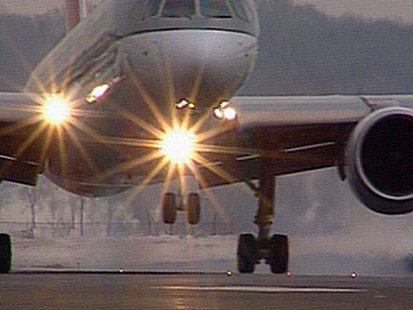 In this case,
"best" doesn't necessarily mean cheapest
; it's a little late for that (a good rule of thumb: from now on, every day you wait to buy Thanksgiving airfare adds another $5 to your trip, until mid November – when prices go into the stratosphere).
However, you can still save depending on the day you fly – such as the holiday itself, and certain other days around the holidays (we have a Holiday Travel "Cheapest Days to Fly" Calendar posted on our site showing precisely which days those are).
Okay, now that you know the dates to fly, let's work out the time of day to fly: in a word, early. This decreases your chances of getting caught up in a cascading domino-effect of weather delays or canceled flights (remember, bad weather can affect flights that are thousands of miles away). If being on time is vital, stick to non-stops where possible, even though they can be twice the price of connecting flights, or more. If you must do a connection, stick to "warm weather" cities – Dallas and Atlanta are rarely plagued by towering snowdrifts.
For more air travel news and insights visit Rick's blog at: http://farecompare.com
Tactic No. 2: Know Your Airport
Before heading out, I expect you to do the obvious, like pre-printing your boarding pass at home to save time, but did it ever occur to you to study your airport? You should. And here's why:
If you see signs for Skylink, do you automatically think of your home TV satellite system? Or does APM bring to mind those delightful machines that spew out $20 bills? Well, forget it: Skylink is the name of the tram at the Dallas-Ft. Worth airport – and you could lose precious minutes trying to figure out how to get from Terminal A to C if you don't know that. Likewise, APM is short for the Atlanta airport's "automated people mover". On a happier note, the conveyance at Detroit Metro's Terminal A is much easier for the acronymically-challenged among us: they simply call it, Express Tram (and boy do they need it – that terminal is one mile long).
A final note on Tactic 2: always wear comfortable footwear. Should you find yourself in Charlotte's lovely airport, for example, faced with the prospect of moving from Terminal A to E to make a tight connection, you need to get your running shoes on because there are no trams there (only moving sidewalks).
Tactic No. 3: Food and Bribes
I'll sound like a broken record (scratched CD?) here, but don't buy food on the planes; pack yourself a sandwich and save. The money will come in handy to buy candy – you know, bribes for the little ones so they'll be on their best behavior on the plane. Bribes for "the big ones"? I think cash will do the trick.
Not traveling with kids? Use the money you save to buy a holiday gift for someone you've forgotten ("I'm sure Aunt Ellie will love this $59.95 "Canine Genealogy Kit" in the SkyMall catalog.")
Tactic No. 4: Pack it Simple
If you're like me and enjoy having your clothing reach your destination the same time you do, always use a carryon bag. However, if you're carrying wrapped presents, ship them ahead or put them in a checked-bag; otherwise the TSA officers may have to unwrap your gifts (and do you really want the world to know you bought your Uncle Ezra a Snuggie?) Likewise, don't try to take homemade jams, jellies or salsas onboard – unless you want to see them dumped at security.
Tactic No. 5: Take a Taxi
Don't add to the congestion at the airport by having someone meet you there – take a taxi, or a private car and driver (which can cost the same as a cab in big cities). Or if you're not too loaded down, try public transit. However, this rule is not to be followed if the person at the airport is Mom. Or you'll never hear the end of it…
Tactic No. 6: Don't Worry, Be Happy
It's the holiday season – try to keep that in mind and make light of the little miseries. So you've forgotten something: in this modern world of ours, just about anything you could possibly need is easily obtainable at your destination.
Unless you've forgotten one of the kids – then you have a problem (and don't think you can sell this scenario as a screen treatment – as you may recall, it's been done before). Do a head count every now and then, and you'll be okay.
And Happy Holidays to all.