"Love is in the air in Lisdoonvarna." Or so the signs all over this small Irish town claim.
Every September, thousands flock here for what's billed as the world's largest matchmaking festival. If local folklore is to be believed, people have been finding their "match" here for more than 150 years.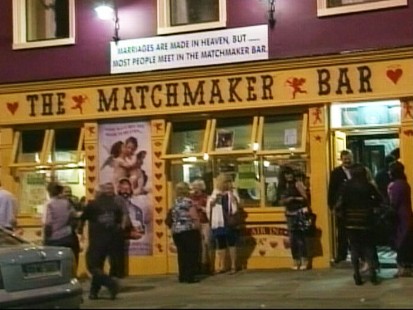 The festival was created to help farmers who were so busy tending to their livestock that they didn't have time to
find brides
. Every September they would come down from their hillsides and the lucky ones would return with lifelong companions.
And Lisdoonvarna still attracts its fair share of similarly isolated Irishmen. "Well, it's lonely," said modern-day farmer, Colm Geaney, who came to Lisdoonvarna in search of a wife.
"I get up in the morning, you have to make your own dinners and suppers... repeated actions. It can be very, very lonely," he told BBC News.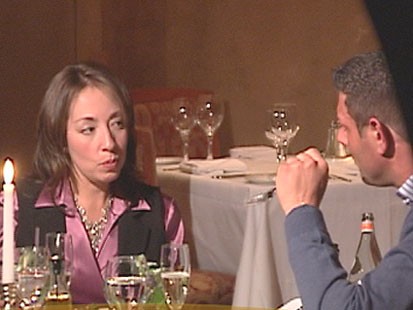 The women, too, come in hope of a match. Several giggled that they were in Lisdoonvarna in search of a "rich farmer."
Cue Willy Daly, Lisdoonvarna's leprechaun of love or, as he refers to himself, Ireland's last remaining professional matchmaker.
He talks of women and love with the ease and charm of someone who has done more than just kiss the Blarney Stone.
"Women want to marry for love but a man is looking for a companion, looking for someone to share his life with," he explains.
For the month of September, business is booming for Daly, who sets up shop in his special booth in the Matchmaker Bar. Hundreds of hopefuls file in to see him over a weekend.
Matchmaking is in Daly's blood. He inherited the role from his father, who succeeded his own father. And he claims a pretty high success rate.
"Since I started 42 years ago, we've probably had a couple of thousand marriages," Daly said.
The process is simple. After taking 20 Euros from the lovelorn, Daly asks what sort of "match" they are looking for and then consults his "magic book," from which he produces 10 possibilities.
Rumor has it that if you touch Daly's book, you will be married within six months, prompting one particularly keen woman to sit on it.
But not everyone in Lindoosvarna is looking for love. Many others come here for a good old Irish party, with the possibility of finding love just an added perk.
"We come here for the craic [an Irish term for fun], for the beer, for the dancing and the women." One festival goer told ABC News.
The town's bars, pubs and dance halls are full from noon to the wee small hours; and the beer certainly flows.
"I'm just here to have a good weekend, to have a little fun," said Cassandra Beasley, a tourist from the United States. "I heard about this festival from a friend who had been here about 10 years ago and decided to come down."
True Lisdoonvarna Love
But for Albert and Cecily Lowlar, Lisdoonvarna holds a special charm. The couple met here 43 years ago, and even after 41 years of marriage, they've been coming back every year since.
"We hate to miss it! September is our month for Lisdoonvarna," they beamed.
The Lowlars met on the dance floor all those years ago and still dance from morning to night at the various gigs during the festival.
While it may have brought love to the Lowlars, the festival in Lisdoonvarna doesn't appeal to all.
"No self-respecting Irishman or Irishwoman would ever find himself or herself anywhere near Lisdoonvarna during the month of September," according to the Irish tourism Web site tourclare.com.
Some locals steer clear of the event.
"I live just down the road, and I've never been to Lisdoonvarna in my life," Marc O'Donnell, a 22-year-old hotel receptionist told ABC News. "It's full of 50-year-olds acting like they're 15 again."
It's this age bracket that Daly particularly enjoys introducing to each other.
"People in their 50s, 60s, 70s or even 80s, and they find love and happiness. It gives great satisfaction," he said.
And to what does Daly attribute his success? "It's very easy to make a match in Ireland because people drink a lot -- when they get drunk, they get amorous."
As couples spilled out of the bars and swayed off together down the street, something was definitely in the air in Lisdoonvarna; some might call it love.