Nine people are feared dead in a helicopter crash that occurred Tuesday evening near Redding, Calif., the Federal Aviation Administration has confirmed.
The FAA said Wednesday that it believes 13 people were on board the helicopter. Four have been critically burned while nine are unaccounted for.
The FAA believes the nine people missing are dead. The helicopter was destroyed by fire.
Watch "World News With Charles Gibson" tonight at 6:30 p.m. ET for the full report.
The crash occurred Tuesday at 7:30 p.m. PT, about 35 miles northwest of Redding in rugged terrain near Junction City. The helicopter had gone into the remote area to pick up firefighters battling a wildfire, and crashed after getting them onboard due to unknown circumstances.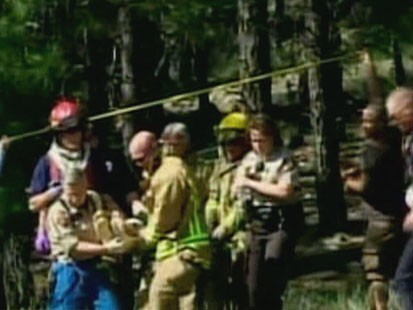 There is yet no word on how many people onboard were crew members and how many were firefighters.
The National Transportation Safety Board is launching an investigation and safety board representatives plan to leave Washington, D.C., for California this afternoon.
Sharon Heywood, forest supervisor for the Shasta-Trinity National Forest, said in a statement Wednesday that three of the people injured have been taken to the University of California-Davis Medical Center. She said that the pilot of the helicopter is one of those patients and is in serious condition.
The Sikorsky S-61N helicopter is registered to Carson Helicopters.