Captain Sully Sullenberger' s splash landing into the Hudson River this winter not only brought attention to the heroic actions of a well-trained flight crew. It also left many people wondering why the government wasn't more forthcoming with information about how often planes hit birds.
Now the Federal Aviation Administration -- already reluctant to provide information about bird strikes following the emergency landing of US Airways flight 1549 -- has formally proposed putting a lid on that information.
Though not a done deal, some say the proposed federal regulation interferes with air travelers' right to know. William Voss, president of the Flight Safety Foundation, told ABC News today that while he doesn't see the move as an attempt to hide information, the FAA owes the public some transparency in return.
The FAA should "protect [the data] if you need to for the sake of reporting, but with that comes an obligation to provide information back out of the system to the public and academic world," Voss said.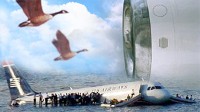 ABC News Photo Illustration
Voss said it would be beneficial for the FAA to periodically publicize the data.
In fact, it's a free flow of information from the airports and airlines that the FAA says it is trying to encourage by keeping data collected on bird strikes private. Reporting information on bird strikes is currently voluntary, and the hope is that confidentiality will encourage better reporting.
"The agency is concerned that there is a serious potential that information related to bird strikes will not be submitted because of fear that the disclosure of raw data could unfairly cast unfounded aspersions on the submitter," the notice in the March 19 Federal Register stated.
"Protecting voluntarily reported safety data is a vital tool in improving aviation safety," FAA spokeswoman Laura Brown told ABC News today.
"FAA has raised concerns about impeding the free flow of information on this critical issue," Eileen Denne at Airports Council International, North America, said today in a statement to ABC News. "While we are still collecting information from our members on the ACI-NA response, we do believe that release of the aggregated data makes sense until a final decision is made on the proposal."
Brown said the FAA absolutely agrees with the Obama administration's push to be more transparent. But she said there are certain programs that are protected in order to gather information on emerging safety issues.
There are more than 100 voluntary safety programs run by the FAA in which information is kept private. For instance, the Aviation Safety Action Program allows pilots, flight attendants and mechanics at major airlines to report safety issues without fear of retaliation.
Brown said the agency always operated the bird strike program as if it were protected as well, but now it is simply bringing it under the same statutory protections as other voluntary safety programs.
Voss said that while it's hard to quantify the effects of those private programs, "You can't dismiss as a coincidence that as these programs have come online, we've seen some of the safest periods in U.S. aviation history."