Some of the conditions at Colgan Airlines -- and possibly other carriers -- are "a recipe for an accident," a member of the National Transportation Safety Board said today during the second day of a hearing examining the crash of Colgan Air flight 3407 near Buffalo, N.Y. in February.
The turbo prop went down on approach to the airport, killing all 49 on board, and one person on the ground.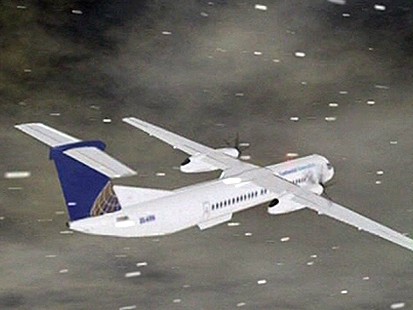 The focus today was largely on pilot fatigue, and particularly the fact that the first officer had commuted overnight to her flights in Newark from her home in Seattle.
Have you worked for a regional or commuter airline? If so, ABC News would like to hear from you.
"The question is, knowing the consequences of fatigue, what are the policies that are in place, or were in place, to mitigate fatigue?" NTSB board member Kitty Higgins asked.
"When you put together the commuting patterns ... the pay levels ... I think it's a recipe for an accident, and that is what we have here," Higgins said.
In the cockpit that night were Capt. Marvin Renslow and first officer Rebecca Shaw. Both were based in Newark for Colgan Air, but Renslow commuted from his home in Florida, and Shaw from Washington State.
Neither had living accommodations in Newark, and both were spotted trying to nap on Colgan Air crew room couches the morning of the accident flight.
NTSB board members questioned how the airline would expect first officers such as Shaw -- whose salary was just under $24,000 per year, according to Colgan Air -- to afford a place in Newark to rest.
"I would expect them the way other pilots do, and other pilots have done for many years who commuted in and out of different bases," said Daniel Morgan, Colgan Air's vice president of flight safety. "People do find ways to share rooms, to share apartments."
Morgan agreed with the board, though, that, "many of the things we've heard about (flight) 3407 has been very dismaying and very troubling to us."
It is not uncommon in aviation for pilots to commute to the cities where they are based. NTSB investigators found that at Colgan Air's Newark operations, 93 of the 137 pilots there commuted. Of those, 29 lived more than 1,000 miles from Newark.
Plane Crash Investigators Discuss Fatigue Factor
NTSB board member Debbie Hersman grilled Colgan Air's vice president of flight operations Harry Mitchel on the fatigue issue.
"Your commuting policy says that crew members shouldn't commute on the day that their shift begins, but (Shaw) began her commute on the day before her shift began, but she finished her commute on the day that the shift began. So how do you monitor this policy and how is it enforced?" Hersman said.
"It's not a firm, hard policy," Mitchel said. "It's guidelines to our crew members."
Mitchel and other Colgan officials insisted that pilots must take responsibility for their behavior.
"We expect, and we hire professionals, and those professionals we expect should show up fresh, ready to fly that aircraft and we provide adequate rest for those individuals," Mitchel said.
"Captain Renslow had nearly 22 consecutive hours of time off before he reported for duty on the day of the accident," Colgan Air said in a statement today. "Also, first officer Shaw had been off work for three days since her last flight."
The regional airline, which operates commuter flights for Continental, USAirways and United, also faced sharp questions on Renslow's hiring.
Renslow had failed three flight checks when getting his pilot's license, but failed to disclose that to Colgan Air on his application. He listed only one failure. The airline could have obtained Renslow's history from the FAA, with his permission. They did not do so.
The airline's vice president of administration Mary Finnigan said the company followed standard industry practice in vetting new hires. That brought a rebuke from board member Robert Sumwalt.
"So what difference does it make what the industry standard is, what other carriers are doing?" Sumwalt asked. "Don't you want to go above and beyond that?"
"Yes sir," Finnigan said. "We do."
Finnigan said the airline will now broaden its background checks on new hires, but insisted that its intent all along has been to hire the very best people.
NTSB Concerned About Chatter in Cockpit of Flight 3407
"I would not sign off on any pilot that I personally would not put my own family in the back of the aircraft, and I felt that we were doing the very best job that we could do," she said.
Finnigan wouldn't speculate about whether the airline would have hired Renslow if it had known about all of his previous test failures, but she said he would have been fired if the airline had discovered he lied on his job application.
The NTSB was also very concerned about the crew's violation of so-called "sterile cockpit" rules. Government regulations require cockpit crews to limit all "non-essential conversation" below 10,000 feet. The cockpit voice recording indicated the crew was chatting about their jobs, the ice and the first officer's stuffy nose as they were descending.
"I am concerned about the winking and nodding that I have seen in some of the policies of the company, your company and crew members, and I don't believe it is only within your company or those crew members," acting NTSB chairman Mark Rosenker told airline officials. "I believe there are industry issues here that we must examine ... to make sure this industry is as safe as it possibly can be.
"Whether it is violations of sterile cockpit, or cutting the salami too thinly to get to work and you're not fit to fly ... I think we have to address that," Rosenker said.
Colgan Air has made a number of changes since the accident. It is instituting a fatigue awareness program for its pilots. It will put every pilot through a new program so they better understand and handle emergencies in the cockpit.
The NTSB hearing wraps up Thursday. It will be some months yet before the board issues a final determination about the causes of the accident.