Dubai is a shopper's paradise, the land of 1,001 malls. Among them, one mall stands apart: the DragonMart, with its 1,200 vendors winding nearly a mile, calls itself the largest trading hub for Chinese goods outside of mainland China.
The DragonMart, built by state-owned developer Nakheel in the form of a twisting dragon, is part of a free trade zone in Dubai's International City. Inside, the fluorescent lights and bare-bones interior showcase everything from power tools to furniture to imitation Renaissance art.
One tobacco vendor sells Chinese "Double Happiness" cigarettes alongside Marlboros and Cuban cigars (most of the buyers are American, said the shopkeeper). Another offers Chinese groceries, with imports like seaweed chips, freeze-dried shrimp and a gelatinous snack called "Jellyfish King."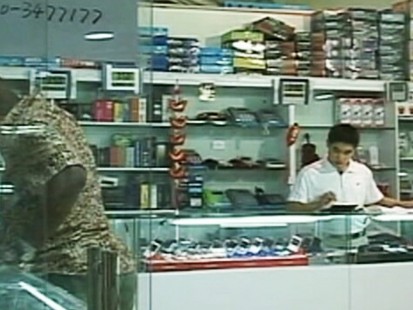 The Dragonmart is an indoor Chinatown, supported by the Chinese Ministry of Commerce. It has been a gateway for vendors to the once-booming Gulf economies, lured by the relatively lighter competition and business restrictions. Chinese-made bath fixtures, garden sculptures, and lamps of all sizes and design were sold in bulk to Gulf developers building the gleaming towers that now stand over the city.
For vendors like Lucy, a Beijing native who sells solar-powered light fixtures made in China, Dragonmart has been her version of the American dream.
"It's different from China to do business. Here it's easy," she explained while demonstrating the workings of a solar-powered backpack. "Every Chinese rich man who has money wants to visit Dubai [and] do business."
Lucy, who like other vendors asked that her last name not be used for fear of punishment for speaking about Dragonmart, moved to Dubai five years ago. Today she lives with her husband, who also works at the Dragonmart, and their 3-year-old son. Like many employees they live in the "China cluster" of the neighboring International City development -- a bland, multi-story apartment complex subdivided into country themes.
The lifestyle there, she says, hasn't been easy. The nearby sewage treatment plant ruins the air, forcing residents indoors.
"[At night] children cannot go to outside play. And in the day it's too hot," she told ABC News. "Every day they're at home, 24 hours they're at home."
"I think Dubai, or the UAE, or the whole Middle East is the best place to be for business. But not for life," she added.
China and the Middle East: The Business of Diplomacy
Analysts see China's growing commercial presence in the Gulf as part of a long-term effort by Beijing to project its global economic influence. China is the world's second-largest oil importer, after the U.S., and has been eager to expand commercial ties with the Middle East. Last year China and the Gulf did roughly $240 billion in trade, an amount that more than doubled in the past two years.
The Dragonmart, which hosts a state-sponsored Chinese New Year festival, is an embodiment of the growing ties.
"Chinese government encouraged us to come out to make business," said a lighting vendor named Hsiu, who changed his name to Abdullah after moving to the Gulf. "We come here seven days a week, except Friday. Friday we are working from 2 p.m. to the evening."
For fun, he says, the store's staff goes out for birthday dinners and trips to KFC. "We love this job, so we're happy."
Less Opportunity as Dubai Is Squeezed by Downturn
Sales at the Dragonmart, as elsewhere in Dubai, have been hit hard by the global recession. But many store owners say Dubai still offers better opportunities than their native China.
"This year because of the financial crisis our sales volume has dropped dramatically," said a door salesman named Dai. "[But] compared to China market I can find more business opportunity, higher salary."
Some vendors are less optimistic, caught between rising store rents and declining sales. "Now business is going down, but the rent is still increased. We worry about this because we bring all products from China," said Lucy. "If rent increase, everything is going down."
"I don't have any money now," said HoHo, who runs a women's clothing store selling short skirts and trendy tops from Hong Kong. "It's a month now, just so bad?I just lost money because we have got two shops costs a lot of money. Some people just coming [to look], but nobody wants to buy."