We all know the old saying that you can't really understand another person's job until you've walked a mile in their shoes. Well what if those shoes are heavy, clunky ski boots?
Somehow I found myself one morning before dawn at the top of a mountain, in near blizzard conditions, climbing an iced-over metal ladder. Did I mention the ski boots?
I had come to the Snowbird Ski Resort to find out what it was like to bring this mountain to life each morning. My timing couldn't have been better: I arrived in the middle of a seven-day period where the ski area saw a whopping seven feet of snow. Needless to say, that complicated matters.
Stay Up to Date on the Latest Travel Trends from ABC News on Twitter
The first thing to "wake" at the resort is the iconic 120-person tram, which climbs 2,900 feet in about 8 minutes. Before the ski patrol and lift operators can get to their positions, Richard Duckworth and his crew make sure the tram is up and running.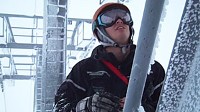 Each morning starts with routine safety checks to ensure that the communications and mechanical equipment are working. But this wasn't any ordinary morning. High winds are a tram's worst enemy. One gauge said that overnight the storm winds had gusted to more than 40 mph. Before running the tram, Duckworth needed to figure out if the winds had died down to a safe enough speed. The problem: he couldn't trust his gauges.
"It's not necessarily that it's always true thanks to ice getting on the wind cups," he said.
A Day at Snowbird Ski Resort
Luckily, one of the mountain's maintenance staff was high on the peak in a snow cat and could drive over to the tower and report back on conditions. There were strong winds, but not so strong that the trams couldn't run. One tram went up, another came down and Duckworth completed his safety checklist.
The tram that spent the night at the summit came to the base with iced-over windows and a layer of snow inside. It all had to be cleaned out. But don't expect any fancy, high-tech equipment here. Just a broom for the snow and a scraper for the windows.
"And you thought scraping your car was bad," tram operator Heather Fischer said as she cleared the windows of the 7,500-pound cabin.
Soon, members of the ski patrol made their first trips up the mountain, along with their avalanche rescue dogs, plus some boxes of explosives to blast away those avalanches.
Then it was my turn to brave the cold.
I rode up the tram with a group of lift operators and electricians, including Jason Peterson.
Our job was pretty simple: start up the lifts so people could begin skiing. The challenge was that visibility was barely 20 feet, the wind kept pushing into our bodies and all around us the ski patrol was setting off explosives to create avalanches so the snow wouldn't later slide into skiers below.
I knew I wasn't about to be buried in snow, but with each thunderous blast echoing around me, I instinctively checked for that rescue beacon a patroller had placed in my jacket less than an hour earlier.
It didn't calm my nerves to learn that every time we moved from one lift to another, we had to radio ski patrol. But given the conditions, I could easily see us skiing off a cliff by mistake.
Peterson was visibly calmer. Right before we climbed up an icy ladder at the top of a ski lift, I asked what it was like to work under these conditions.