A south suburban Chicago man known for being very proud of his lawn has been charged with killing a neighbor who let his dog urinate on the man's front yard.
University Park, Illinois, resident, Charles Clements, 69, a former Marine, is being held on a $3 million bond in connection with the fatal shooting last Sunday of 23-year-old Joshua Funches.
The victim's mother is shocked that her son was gunned down on Mother's Day in what she believes was a minor neighborly dispute.
"My heart is so heavy and it's so torn and it's whipped up," Patricia Funches told ABC News.
"I should not have to bury my son."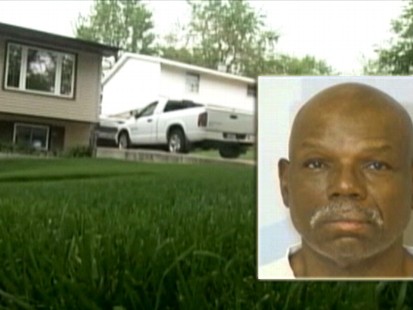 Patricia Funches said Clements followed her son home, pulled out his gun, and shot him. "Why did that man leave out of his house with a gun and come after my son," his mother wondered aloud. "I always taught my son to walk away."
Police say Joshua Funches' fox terrier urinated on Clements' lawn, and the incident escalated after the two men exchanged words after Funches headed toward his home. When police arrived at the scene and found Funches bleeding on the ground in front of a vacant house, witnesses directed them to Clements' house. Officers recovered a .45-caliber handgun they believe Clement used to kill Funches.
Funches' mother, who did not witness the shooting, disputes that her son would have incited Clements.
"He didn't bother nobody. There would have never been a complication," she said. The only way there could have been an altercation is for Clements to have struck Joshua first, she said. If that had happened, she said, her son perhaps would have fought back.
Funches suffered a single gunshot wound in the abdomen, and his death was ruled a homicide by the Cook County, Illinois, Medical Examiner's Office. He was pronounced dead Sunday night at a hospital in Olympia Field.
His mother rode in the ambulance with him to the hospital. "When I saw him in the ambulance, I told him to call on Jesus. He did. He last two words were 'Jesus. Jesus.'"
Funches was the father of two, and his girlfriend is expecting their third child this summer. His mother worries about who will take care of the small children.
"I think about his daughter, who is 4. She's old enough to understand what's going on. "She saw [Joshua] on TV, and hugged the TV," Funches said. "I think about what's going to happen to her. I can only do so much."
Joshua Funches had lived in the neighborhood since he was 8 years old. Patricia Funches mother bought the house so that she could raise him there. He had always been mindful about walking on the grass in the neighborhood, even going as far as to encourage other kids to get off the grass, his mother said. Funches, who was a school bus driver, had applied for a position with the Cook County Sheriff's Office. He had recently moved into his mother's house to raise his family there.
Clements was famous for the upkeep on his well-manicured lawn, winning several local beautification awards. Neighbors described him as obsessed with the upkeep of the lawn. He even had a sign on his mailbox urging letter carries not to walk on the lawn. Even though Clements was known to run people off his lawn, residents of the quiet community greeted the news of the killing with disbelief.
"We've known Chuck for 15 years to 20 years," Lloyd Allison told ABC 7 Chicago. "He and his wife, Allison, they're sort of the stalwarts of the block."
Another resident who knew Funches is devastated and stunned. "It think it's pointless. I'm still shocked. I can't believe it, you know, because the person who died I grew up and went to school with him," LiShawn Byers told ABC 7.
Funches funeral is scheduled for Saturday. His mother said that, ironically, she had spoken with her son about her own funeral a few months earlier, as she had recently suffered a heart attack and stroke and wanted him to know her wishes.
Patricia Funches hopes to convince the village where her son lived to name the street after him. She also believes Funches should be forced to pay restitution for killing her son.
"I don't hate him. I know he took something great away from me. I believe he should be held to the law -- to the fullest extent," she said.