Pastor Craig Gross admits he has more porn stars in his Rolodex than Christian leaders.
For the last seven years, the 33-year-old former youth minister has been known as the "porn pastor," befriending Las Vegas sex workers and other social pariahs.
Conservative Christians were horrified when Gross moved there last year and declared, "Jesus Loves Sin City," establishing The Strip Church, attending porn conventions and handing out mini-Bibles.
But today, Gross is expanding his message of Christian love to the glutton, the disconnected, the crook, the outcast -- and even the ultra religious who disagree with him.
Gross has joined forces with fellow activist pastor Jason Harper to promote their new book, Jesus Loves You, This I Know."
The authors have launched a six-stop tour across the country, including a gay rally and a maximum security prison, to reach out to those cast away by many conventional churches.
"The church looks at the rest of the world with a score card and chalk board, marking people off," said Gross. "Jesus is ready to sit down and dine with the sinner and the forgotten with no strings
The hip, young pastors are as comfortable with pop culture as they are with the latest Internet technology.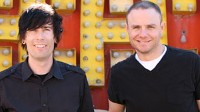 Just last week, while visiting the Westboro Baptist Church in Topeka, Kan., they had a Biblical confrontation with evangelical picketers carrying "God Hates Fags" posters at an Adam Lambert concert.
Gross and Harper carried their own posters, "Jesus Loves Gays." Using video feeds, tweets and photos, they countered the protesters using #JesusLovesYou.
Their anti-hate message resonated so much with "American Idol" fans that it sparked a Twitter movement, #GodHatesHate, which became the number one trending topic that day.
According to the authors, over the last 2,000 years, the traditional church has for its own agenda, "distorted, twisted, hijacked, tweaked, relabeled and distorted again" the teachings of Jesus.
Jesus Loves Everyone, Say Pastors
In 2002, Gross, 33, founded Fireproof Ministries and XXXchurch.com, a web network for people struggling with pornography. Harper, 37, is the director of community outreach for Capital Christian Center in Sacramento, Calif., and founder of The Extra Mile, an organization for inner city children.
"We've always gone where the church hasn't gone," Gross told ABCNews.com. "We aren't afraid of that. Where there is no competition, we have had our best success."
But for Gross and Harper, success doesn't mean crusading against sin, recruiting or even pushing book sales.
"I don't think I have ever converted one person," said Gross. "Even if I don't sell one book, all these stops are a significant part of this rebranding of Jesus's name."
But that doesn't sit well with some fundementalist churches like Westboro Baptist, which the authors target as "hateful and notorious for offensive protests."
Westboro's automated telephone recording tells callers, "This ministry centers around obedience to the command of God, who promises to bless you if you obey, and curse you if you do not."
The church's own message -- "God Hates America" -- is directed not only at the gay culture and pornography, but even at President Barack Obama, whom they view as "the beast," the scriptural antichrist who arrives just before the Apocalypse.