Police found 16 pairs of women's panties in the home of Philip Markoff, the Boston University Medical student charged with the murder of a sex worker who was shot dead in an upscale hotel room, a law enforcement source told ABC News today.
The panties were hidden under Markoff's bed in the Quincy home he shared with his fiancee. Along with the panties was a large bag with roughly 60 pairs of plastic flex-cuff restraints, the law enforcement source said.
Markoff has been charged with allegedly contacting two women through the Web site Craigslist, and luring them to upscale hotels, where police say he bound their hands with plastic cuffs and robbed them. Markoff is also accused of killing one of the women, Julissa Brisman, after she resisted. He has pleaded not guilty.
The panties and restraints were found along with duct tape next to a hollowed-out copy of "Gray's Anatomy" that hid the semi-automatic weapon police believe was used to shoot Brisman, 26, of New York City April 14. Brisman had rented a room at the tony Boston Copley Marriott from Monday April 13 through Wednesday April 15 to offer $200 massages "with hand relief."
Markoff, who has been dubbed the "Craigslist Killer," is charged with bashing Brisman's head in around 10:10 p.m. Tuesday night and shooting her three times at point-blank range.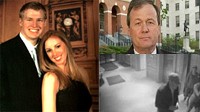 He is currently in the psychiatric unit of Nashua Street jail, where he is monitored around-the-clock after he attempted to strangle himself with shoelaces and tried to slice his wrists with a spoon he sharpened to a point using concrete in his cell, a law enforcement source said.
Last week, he told his parents, brother and sister-in-law during a jailhouse visit to "move to California and forget about him,'' another law enforcement source told ABC News.
"He said that there was a lot more to come out,'' the source said. "He has spent all of his time now sleeping and staring out the window at the news trucks."
Boston Police officials would not comment today on the number of panties found when homicide investigators executed a search warrant of Markoff's apartment after his arrest. Markoff was on his way to Foxwoods casino with his fiancee Megan McAllister when he was arrested April 20.
Markoff is next due in court May 21. He's accused of killing Brisman in the Boston hotel and of binding and robbing another woman in a nearby hotel days earlier. Police sources also told ABC News that it appears Brisman may have slipped free of the plastic ties used to restrain her before she was shot three times at close range.
Earlier this week, Markoff's fiancee, Megan McAllister, broke her silence to say she would continue to stand by her man.
Through her new attorney, Robert Honecker Jr., McAllister released a statement in which she thanked friends and family for their support and expressed sympathy for "all of those afflicted by these events."
"I also love my fiance, and I will continue to support him throughout this legal process," she said.
McAllister added that she did not recognize the man she had seen in the media reports about Brisman's murder and the alleged attacks and robberies of two others, one in Boston and one in Warwick, R.I.
"What has been portrayed and leaked to the media is not the Philip Markoff that I know," she said in the statement. "To me and my family, he is a loving and caring person, and in the eyes of the law and the Constitution, he is innocent until proven guilty beyond a reasonable doubt.