It looked like a discarded shoe in the sand.
But when an Albuquerque, N.M., mother pulled up on the pint-size sneaker, she made a gruesome discovery -- a little boy buried in the playground sand underneath the swings.
Four days later, police still have no leads on who that little boy is or who buried him in the sand at Alvarado Park.
It's a mystery that has gripped the entire city. Residents have been calling police just to report that they drove by the park that day. Others have donated money to pay for a proper funeral for the child dubbed "Baby Justice" and "Baby Angel." More than $4,000 have been collected so far.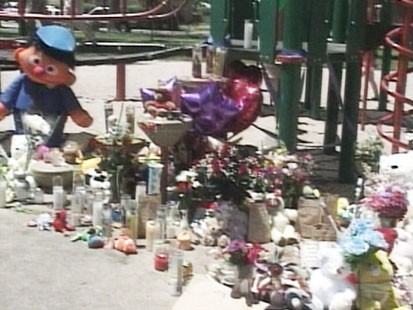 Albuquerque Police Officer Nadine Hamby told ABCNews.com that, based a preliminary, partial autopsy,
the child was either 3 or 4 years old
, weighed 38 pounds, was 38 inches tall and was of either American Indian or Hispanic descent.
He had no visible scars and had quarter-inch length brown hair and brown eyes. Other than the tiny black Skechers sneakers, the little boy was wearing black jogging pants and a red T-shirt with a picture of a monster truck.
There are no children matching his description reported missing in the area, Hamby said, leading police to believe that whoever buried him in the sand is either his caretaker or otherwise close to him.
"And that's why they believe no one has reported the child missing yet," she said. "We have received numerous tips, which has been absolutely wonderful."
Albuquerque police, she said, are working with the National Center for Missing and Exploited Children to develop a composite sketch of what the boy may have looked like.
Hamby said a local mother -- whose name has not yet been released -- was at Alvarado Park with her two children. As one of her children was playing on the swings, the back-and-forth motion disturbed the sand underneath, revealing a tiny black Skecher sneaker with gray and lime-green designs on it.
Hamby said the woman grabbed the sneaker to move it out of the way, figuring another child had left it behind, "and sees that it's connected to a leg -- at least an ankle."
Hamby said the mother dropped the foot and called police, who unearthed the rest of the body. The medical examiner, she said, determined the boy had been underneath the playground for no more than 48 hours.
Grieving for 'Baby Justice'
Right now, Hamby said, police have no reason to believe the boy is not from the Albuquerque area but are keeping all options open until they hit on a lead that will help identify him.
Albuquerque grandmother Maria Gutierrez told ABC affiliate KOAT that she feared the boy may be her estranged daughter's son and even brought a picture of him to the medical examiner's office.
The boy was not her grandson, she said, but she came to Alvarado Park anyway to pray for him.
Hamby said police are checking every possible place the child could have come from, including day care centers and nurseries.
"We went to the homeless shelters just to rule out people who were traveling through," she said, adding that all known sex offenders have been accounted for.
The National Center for Missing and Exploited Children ran a search of all missing children nationwide, Hamby said, and none matched their little boy's description.
Albuquerque funeral home French Funeral and Cremation Services has offered to provide full services for the little boy, including a ceremony, casket, burial, gravesite and headstone.
General Manager Tom Antram said the offer will stand for as long as it needs to if state and police officials want to take advantage of it following the investigation.
"We've always looked at the death of a child as something that's hard for the community to take," Antram said, adding that the company has routinely provided free services for infants for decades. "It just makes sense that when something happens in our community, we need to be a part of it."
At the playground, a makeshift memorial with flowers, toys and balloons has been growing as parents gather to talk about the mystery.
"I just can't comprehend this at all," Albuquerque mother Charlotte Delgritto told KOAT. "Why someone would do this to a little child. So innocent, you know? It's terrible. A tragedy."