At first glance, Harbin, China could almost be mistaken for Las Vegas with its streets and buildings lit up in gaudy, neon lights. But Harbin isn't built on sin – it's built of ice – 5.6 million cubic feet of it.
Every year, from January through mid-March, the desolate Harbin frost is transformed into a veritable polar paradise as part of the city's International Ice and Snow Sculpture Festival, complete with Egyptian sphinxes, terracotta warriors, and hotels made of blocks of snow.
The festival, started in 1985, is one of the largest of its kind in the world, drawing tens of thousands of tourists from China and all over the world to the capital city of China's Heilongjiang province.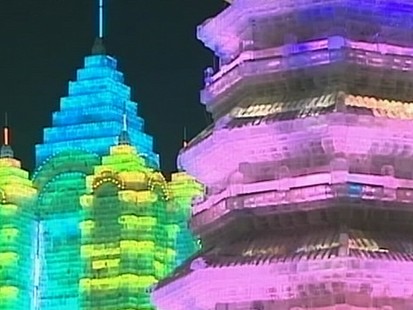 The Chinese have a reputation of being some of the most efficient in the world, and this festival shows Chinese ingenuity at its most impressive.
"More than 10,000 laborers worked day and night to build this in less than three weeks," Yang Li, a Chinese tour guide told ABC News.
The ice is carved from the neighboring Songhua River and is enough to fill 64 Olympic-sized swimming pools. Another 4.2 million cubic feet of snow was used in building the ice city.
Temperatures are frigid here -- zero degrees is considered a mild day -- but visitors believe it's well worth the chance of frostbite. "It's indescribable," Brent Hartman, an American tourist, said. "Just like most of China is indescribable because it's so large and everything's on such a massive scale."
A distinctly Chinese version of a winter wonderland.
Check out our slideshow of the Harbin's International Ice and Snow Sculpture Festival
.