If Cornell is this year's Cinderella story at the NCAA tournament, than Jason "J-Mac" McElwain certainly would be its prince.
J-Mac, who has autism, first captured the heart of the nation four years ago when, in the last game of his high school basketball team's season, he was given his first chance to play. In just four minutes, he scored six three-point shots and finished with 20 points. He even tied the school record.
One of J-Mac's admirers is Cornell basketball coach Steve Donahue, whose own son, Matt, has autism. Donahue reached out to J-Mac after that electrifying high school basketball game and the two have stayed in touch ever since.
"It was one of the greatest inspirational stories I had ever heard," Donahue said. "Jason was having so much fun and enjoying the experience. It made me really happy that one day my son could have kind of experience as well in his high school."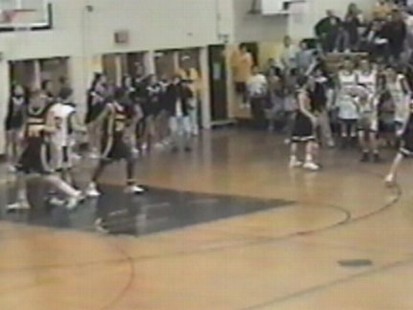 This year, J-Mac, now 21-years-old, joined Donahue at the NCAA tournament selection. In addition, he's been calling and texting Donahue with advice for the team -- including how to beat top NCAA teams Temple University and University of Wisconsin.
"Jason's advice is unbelievable. The kid is on the money," Donahue said. "What better way to motivate our guys then to have Jason come in and talk to them. He's got a lot of great ideas and always ends them with an inspirational thought. I love hearing from him."
Still, J-Mac, who is not a student at Cornell, is humble about his involvement with the team.
"I'm not taking anything away from the team," J-Mac told ABC News.
But it was J-Mac's text in the final minutes of the Wisconsin game that has had the most impact. It read, "If you don't dream to become a champion, you won't become a champion."
Moments later, Cornell won again.
As J-Mac's story continues to unfold, a new chapter is developing for the inspiring young man. He's decided to turn his attention to the sidelines, and in addition to giving advice to the Cornell basketball team, he volunteers as a junior varsity assistant coach for his alma mater -- Greece Athena High School in New York state. Next year, he'll help with the varsity team.
He also works a job in the Greece, N.Y., area.
In the meantime, J-Mac continues to dole out advice to the Cornell team.
"I've been a part of many comebacks," he said. "I've been a part of teams that have come back against us. I told them you have to finish the game."