Six months after a devastating 7.0 magnitude earthquake struck the heart of the poverty-stricken nation of Haiti, the people of the Caribbean country are still struggling to recover and rebuild.
Already the poorest nation in the Western hemisphere before the quake hit on Jan. 12, the catastrophe left hundreds of thousands dead and over a million people homeless.
While billions have been pledged to help the country recover, much of the capital of Port-au-Prince remains in ruin, with monstrous piles of debris cluttering roads and thousands of homes still teetering on the edge of collapse.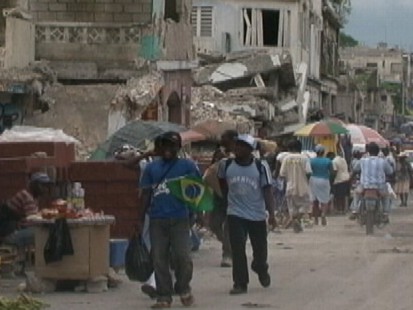 Workers from the humanitarian organization
Doctors Without Borders
have been on the ground in Haiti since the start of the disaster, working to treat those injured in the quake and restore medical services.
"Access to healthcare has improved, even if you compare it to the situation before the earthquake," said Hans van Dillen, a Doctors Without Borders coordinator currently working in Haiti.
Van Dillen spoke with ABC's David Muir via Skype to talk about the strides his organization has made and the tremendous amount of work that still needs to be done in the months and years ahead.
"People are still out there and they are still at risk," he said. "I think for at least the next 10 years, Haiti needs all the help it can get to get back on its feet again."
We hope you'll watch today's Conversation.
To donate to help Doctors Without Borders' efforts in Haiti, click here.