Tarawa...bloody Tarawa. Sixty-five years after the battle there, Leon Cooper, a World War II veteran, says he is still haunted.
"They were shooting at us from here, from there and from there," he said as he stood on the beach on the small Pacific atoll.
Cooper, now 89, was a Navy ensign when the United States attacked the Japanese holding Tarawa in November 1943. It was an early part of the U.S. "island-hopping" strategy in the Pacific to take strongholds closer and closer to Japan. Cooper was in charge of a Higgins boat, a landing craft that was meant to bring armed marines ashore.
"It's etched in my mind," he said. "The Japanese were far better prepared for our assault than we were in making it."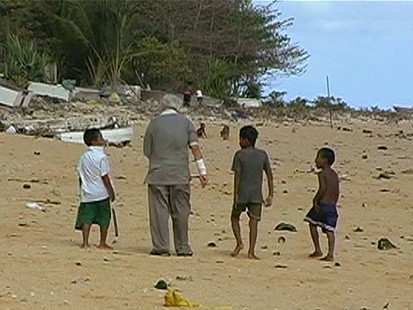 When word got back to the United States, there was shock. U.S. troops had never had such trouble storming a beach before.
Nearly 1,700 U.S Marines and sailors died, according to the Naval History Center, and about 4,800 enemy personnel were killed during the invasion. Some Americans were angry that so many died for such a small island, which is halfway between Hawaii and Australia.
"This is as bad as it ever got," said retired Marine Maj. Gen. Thomas Wilkerson, CEO of the U.S. Naval Institute. "For the first time Americans saw dead Americans in combat and it was a very difficult time."
Cooper returned to Tarawa this year with a documentary film crew and walked on ground he last saw 65 years ago. Looking for something to commemorate the history of Tarawa's sandy shores, Cooper only found a monument in a parking lot. The beach, where so many died, is now a garbage dump.
"I can't stand it," he said, covering his face and holding back tears.
Cooper also met with private researchers who've scanned Tarawa with special radar and say that more than 100 U.S. marines are still buried there. The defense department says the evidence is unclear.
Still, Cooper went to Washington to argue that the island is hallowed ground -- that the garbage needs to be cleaned up -- and if there are bodies there, they need to come home.
Speaking of a young marine he tried and failed to help, Cooper said, "He was saying something. I couldn't hear him. I got closer to his lips and then I think I heard, I can't guarantee it, 'Remember me, remember me.'"
Impossible to Forget
History books do not make much mention of Tarawa. But for veterans like Cooper, it's a place he can't get out of his mind.