Identical triplets -- Trae, Jordan and Chandra Berns -- were severely burned in a house fire at only 17 months old.
Desperately hoping to erase the physical scars of the fire, the 22-year-old triplets embarked on a new laser treatment plan with Dr. Jill Waibel of the Palm Beach Esthetic Dermatology & Laser Center.
Waibel is a dermatologist in Palm Beach, Fla., who specializes in cutaneous laser surgery.
The triplets also have started their own foundation, "Three for Hope," which will focus on helping other burn survivors pay medical bills and pay for laser treatments to improve the quality of burn scars.
MESSAGE FROM CHANDRA, TRAE AND JORDAN BERNS: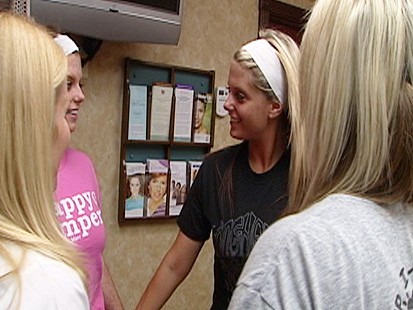 "Thank you so much to everyone for the positive feedback and support! This has been a wonderful journey, and we are glad to have shared it with all of you. In the beginning, before we chose to share our story with the world, we said that if we can just help one single person in some way, everything would be worth letting the world in on our story and struggles that we have overcome. And it looks like we have done that! We can't express all of the gratitude toward all of you for all of the beautiful messages, comments, inspiring stories you have shared and all of the donations made to the Three for Hope Foundation! We are going to help as many people as we possibly can, and it would not happen without generous hearts like you all have! We will keep everyone posted with our latest updates on our foundation's Web site. Please visit threeforhope.org!"
ANSWERS FROM CHANDRA BERNS:
AMANDA, Hadley, Mass.: Has this journey made an impact in what you aspire to become in a professional aspect?
CHANDRA: Well, at the beginning of this journey with getting the treatments and doing all of the media, we already knew what we wanted to do. I had the hopes of starting a foundation for burn survivors and their families since the age of 17. But since all of this has happened, it has sped up the process, which I am so grateful for! I didn't know what I wanted to major in, I could NOT make up my mind because I wanted to do everything, but since my dream is coming true, that has definitely helped me make up my mind and I am going into nonprofit business. My sisters Jordan and Trae have wanted to be occupational therapists for quite some time as well.
CAROL, Austin, Texas: How can I become involved in Three for Hope? My husband and I were so impressed with these girls' spirits and determinations and would be proud to call them "granddaughters." What can we do to help this wonderful cause?
CHANDRA: We are just getting our foundation launched and need all the help we can possibly get, i.e. help with getting the word out, and doing fundraisers and what not because we have a lot of people out there to help, and just not enough funding as of right now to cater to everyone, but we will get there ... and with help from people like yourself, that would be so wonderful! If you go to threeforhope.org you will see an e-mail address you can contact us at, and we will discuss this further!
TRACY, Diamond Bar, Calif.: Wow, what an incredible story! You are the same age as my daughter. I am an English Second Language teacher about to move to China for a year. I am also a public speaking major. Have you thought of taking your inspirational story global? Have you thought of taking your fund raising efforts global as well?
CHANDRA: Wow, China! That's so awesome! I've always wanted to go there! Anyways, back to your question ... this has all happened so quickly and we have just been thinking about what we have to get accomplished in the time being. We have thought about taking our fundraising efforts global, not really sure how to reach people on the other side of the world yet, but we will come up with something!
GERLINDE, Millbrae, Calif.: How did you go from being afraid to show your scars to putting down the walls and opening up to people about it? What's the trigger? How did you find the courage to do so, especially telling your boyfriends?
CHANDRA: Well, opening up to people we trust can definitely be a lot easier than opening up to everyone in the entire world, lol! But going from not even wearing a t-shirt to the grocery store in 100-degree heat to then all of a sudden going on national TV and sharing our story that we have been so private about all of these years ... well, that was all up to God and our wonderful Aunt Vicki and our grandma Sue. They have really encouraged us to not let our differences stop us from anything. We couldn't have done it without them! He has been with us every step of the way and He told my sisters and I to just get out there and do it and to not be afraid, so we listened to Him. If we could sacrifice our own comfort zone to help others and help them realize that they are not alone and there are people out there that care ... then it was worth every bit of this.
ZEELA, Cerritos, Calif.: I, along with 40 of my classmates, graduated this past May 2009 with our master's in occupational therapy. I was so proud to learn of the girls and the importance of occupational therapy in their lives. My question is simply this: What advice do you have for me as I enter the OT profession in dealing with patients who are burn survivors just as you are?"
CHANDRA: Be compassionate and understanding that the procedures that they are having to do are very painful, in which I am sure you already know, but try to relate to them by not treating them any different than you would with any of your other patients.
SAMANTHA, San Francisco: I have a similar story, I was burned in my home when I was 2 and left with third degree burns on 24 percent of my body. I am now 19 so I can definitely relate to the struggle everyday of accepting what can't be change, and I am so glad that there is something out there that can help! Just wondering how many treatments you have all had to do to see noticeable improvement?
CHANDRA: Well, we had our procedures done one month apart, but usually you would have to wait a little longer to get each treatment, but around the 4-5 month mark is when we started see a difference!
STACY, Minneapolis: I am also a burn victim and have scars on my face. I'm wondering if you've found a makeup that you like that isn't too heavy and lasts all day? Also, do you know if this laser treatment is offered in other states, and how soon after your treatments were you able to wear makeup?
CHANDRA: Hi Stacy! We usually use Revlon ColorStay foundation. ... You can get it from your local grocery store or Wal-Mart. ... It's nothing special or anything, just a normal foundation that we like.
EDDIE, Amarillo, Texas: I am interested in the laser scar removal and its progress.
CHANDRA: The progress depends on the scar. Everyone's scar is different. So far, we have seen that the texture of our skin is a lot smoother and flatter, as well as the coloring is more uniformed.
ANSWERS FROM DR. JILL WAIBEL:
Please be advised this is general information and patients should seek a consultation with a physician for specific recommendations on their condition.
JOYCE, New Bern, N.C.: We are adopting a 5-year-old boy from Taiwan. He was burned very bad on his upper body and his stomach. At what age should we think about trying laser treatment to reduce the scarring?
WAIBEL: Congratulations on the adoption of your son. Every child differs at the time they are able to tolerate different medical procedures. There are many types of lasers which may be used on scars. Factors to take into account include the procedure and the child's ability to cope with pain. I would recommend that you find a pediatric dermatologist or dermatologist laser expert for consultation and treatment recommendations.
SONIA, Miami: I am a 24-year-old burn survivor. I was burned when was 18 months old, in a house fire in Honduras. Does the outcome of the laser surgery have a difference based on the skin pigment?
WAIBEL: People with skin of color are the fastest growing segment of the U.S. population. We have lasers to treat all skin types, but not all lasers are safe on darker skin. I recommend you have a consultation with a board certified dermatologist or plastic surgeon with extensive laser experience to determine the best treatment for your burn scars.
LEE, San Diego: My youngest sister has third degree burns on her lower body in a kitchen accident. My question is how late is it to remove the scars? She is 36 years old now.
WAIBEL: Burn scars evolve over a period of one to two years. Burn scars typically tend to worsen with hypertrophy and contracture. Usually by the end of two years, the scar tissue has matured, resulting in the final scar. We still need to do clinical trials to determine the optimal time to treat a scar but we have treated scars over 50 years old with improvement. Your sister should get a consultation with a laser expert for specific recommendations.
COURTNEY, Brockport, N.Y.: What would you suggest for an adult suffering from acne? Could laser treatment help?
WAIBEL: Go see your local board certified dermatologist! We have wonderful treatment options for active acne. Laser treatments do exist which treat acne, although we also have wonderful medications to help with acne. Every medical procedure and medication comes with risks and benefits that need to be discussed in consultation with a dermatologist.
ANNE-MARIE, Martinsville, Ind.: Are there any other places that perform this therapy? What kind of results do you typically get and does this help with issues such as webbing between the fingers?
WAIBEL: The laser we used on the triplets is the Lumenis Ultrapulse laser. Many board certified plastic surgeon and dermatology laser experts perform this therapy. I would recommend you go to the Lumenis Web site for referrals of laser experts near your home. The webbing of the fingers is often treated surgically and there are expert burn reconstructive surgeons who dedicate their surgical careers to helping burn patients.
KATHIE, Lebanon, N.H.: I have a friend who was burned over 80 percent of her body with lye two years ago. Can the laser treatment help decrease the scarring of chemical burns?
WAIBEL: The Lumenis Ultrapulse laser has been used to treat many types of scars -- surgical, acne, traumatic and burn scars. Although I do not believe any clinical trials have been done in the United States studying the Lumenis Ultrapulse Total FX treatment with chemical burn scars, I would recommend you get a consultation with a local board certified dermatologist or plastic surgeon laser expert.
TOM, Eagan, Minn.: I have some keloid/acne scars on my chest and back. ... Can this laser treatment help surface-level and raised-type keloid scars?
WAIBEL: We believe scars are best evaluated and treated with combination therapy. Keloid scars have been improved with the Lumenis Ultrapulse laser, pulsed dye laser, fractional non-ablative laser and steroid injections. We frequently treat the scars with more than one therapy. I tell my patients it is a "work in progress" and that you must evaluate the next best therapy after each treatment.
SIERRA, San Diego: I'm curious about these treatments. How did your skin react? Do you have a tendency to keloid? I was burned when I was 2 years old, and throughout all of my surgeries I've seen minimal results since my skin is so sensitive.
WAIBEL: Burn scars are highly variable in terms of tissue affected, the severity of the burn and resultant complications. Lasers improve the appearance of scars but cannot completely "remove" the scar. Multiple treatments may be needed to gain maximal improvement. The skin is red and swollen about one week after treatment. To my knowledge there have not been worsening of scars but every patient's scar and healing are unique.
LYNETTE, Marshall, Wis.: Since these treatments would probably not be covered by my health insurance plan, what is the cost for these treatments? On average, how many treatments does it take to achieve a noticeable difference in the texture of the scar? Would the laser treatment(s) have any adverse affects on muscles and tendons?
WAIBEL: Unfortunately, we currently do not have CPT (Current Procedural Terminology) codes for laser resurfacing of burn scars and therefore these cannot be submitted to insurance. This is being worked on at the national level to determine how burn patients can best be supported. At this time laser treatment of burn scars is considered cosmetic. Price range would be a few hundred to a few thousand dollars depending on the percentage of skin treated. With every treatment of laser on burn scars there is usually improvement in color and texture of scars. Often, combination treatment with other lasers and intralesional kenalog is needed. I usually tell patients [to] expect three to five treatments but perhaps [they] will need many more. It is a work in progress. At the appropriate settings to treat the skin, the laser beam does not penetrate to muscles and tendons and to my knowledge there have been no adverse events reported on muscles and tendons.