Bernard Madoff will soon trade his Upper East Side penthouse for the big house and is expected to remain there for the rest of his life. The disgraced financier who allegedly ran a $50 billion Ponzi scheme is expected to plead guilty this week to 11 felony charges including securities fraud, mail fraud, wire fraud, money laundering, and perjury. The maximum sentence for Madoff, 70, is 150 years.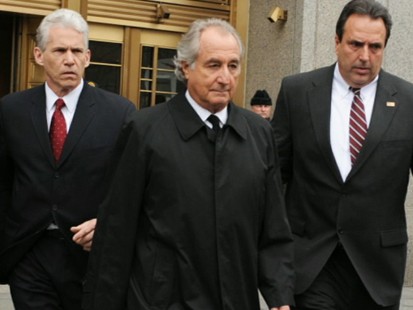 "The charges reflect an extraordinary array of crimes committed by Bernard Madoff for over 20 years," said Acting U.S. Attorney Lev Dassin. "While the alleged crimes are not novel, the size and scope of Mr. Madoff's fraud are unprecedented."
Though he is expected to plead guilty at Thursday's hearing in Manhattan, it could be several months before Madoff is sent to prison. At this week's hearing, the judge will decide whether or not Madoff's plea will be accepted and if he should be immediately remanded to federal prison.
At least 25 victims have come forward and requested they be heard by the government at Thursday's hearing.
Prosecutors said today that Madoff's expected plea will not end the matter and that their investigation will continue. Madoff is so far the only person charged in the purported fraud, but investigators continue to look for possible accomplices and have not ruled out his sons nor his wife, Ruth. Madoff has insisted that he committed the massive fraud on his own.
Prosecutors today said that Madoff will have to forfeit any proceeds from his scheme and that any property obtained from the scheme would also be seized. So far, investigators have recovered about $950 million in cash and securities.
Ruth Madoff Wants to Keep $7M Penthouse and $62M Cash
Ruth Madoff earlier told prosecutors that she should be allowed to stay in the couple's $7 million penthouse in Manhattan and that she should be able to keep an additional $62 million in cash and bonds which she says are not connected to her husband's alleged scam operation.
When Madoff was arrested in December, his wife posted a $10 million bond, telling prosecutors she had her own money that she inherited from her now deceased parents.
But her father's will, obtained by ABC News from court files in Florida, suggests otherwise. Her father left her little more than some stock valued at $39,000 which she gave to her sister. Nothing close to the millions she claims to have inherited.
Unless she can prove otherwise, the bankruptcy trustee on the Madoff case says he will seek to seize the apartment and the $62 million.
Earlier Tuesday, Madoff left the confines of his luxury penthouse where he is under house arrest holding a large black umbrella, though it was not raining, to appear in a Manhattan courtroom. It was his first public appearance in nearly two months.
Madoff's lawyer Ira Lee Sorkin acknowledged Tuesday that he invested $18,860 with Madoff through a benefits fund at his former law firm. Prosecutors had wanted to get Sorkin thrown off the case citing a conflict of interest but Madoff waived any conflict and was allowed to keep Sorkin as his attorney.