The attorney for Michael Enright, the New York City college student charged with attempted murder as a hate crime for allegedly stabbing a Muslim cab driver Tuesday, denied that his client had acted out of hatred for Muslims.
"I don't believe that he has any underlying hatred or animosity towards Islam or Muslims in general," said attorney Jason Martin. Enright, a 21-year-old filmmaker and School of Visual Arts senior from upstate New York, has had past run-ins with the law involving alcohol and New York City police described the Tuesday attack as an isolated incident caused by drinking.
Police told ABC News that Enright, who had returned from a filmmaking trip to Afghanistan in May, was carrying two notebooks when arrested that contained allegedly "biased sentiments" recorded while he was in Afghanistan. Without providing details, police sources said the comments described encounters with Afghans he viewed as ungrateful for the American military presence in their country. The Associated Press reports, however, that police say the notebooks do not appear to contain anti-Muslim rants.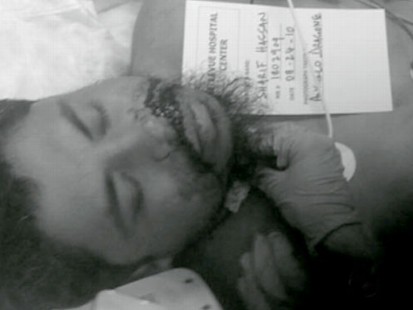 New York City mayor Mike Bloomberg met with victim Ahmed Sharif and his family at New York's City Hall for more than an hour Thursday, and gave the cab driver's four children gift bags with "I Love New York" and "I'm a New Yorker" t-shirts and New York City pencils. Bloomberg c said it was "very sad" he and Sharif had met under these circumstances.
Asked if he thought the attack was related to controversy over plans to build an Islamic cultural center and mosque near Ground Zero, Bloomberg said he didn't know. "I wasn't in the cab," said Bloomberg, "I don't know what was going through anybody's mind. Whether it was related to anything or not it was disgraceful."
The Tuesday attack allegedly began when victim Ahmed Sharif answered "yes" to Enright's question, "Are you a Muslim?", and observers have wondered whether it was spurred by heated rhetoric over plans to build a mosque near the site of the 9/11 World Trade Center terror attack in lower Manhattan.
Bloomberg, who has backed the Islamic center's construction, said Wednesday he had "assured [Sharif] that ethnic or religious bias has no place in our city."
"This attack runs counter to everything that New Yorkers believe, no matter what God we may pray to," said Bloomberg.
Salam al-Marayati, executive director of the Muslim Public Affairs Council, says the Ground Zero debate has inflamed anti-Islamic passions. "The level of anti-Muslim sentiment is at an all time high," said al-Marayati.
"This is what the terrorists want," said New York Gov. David Paterson Thursday. "This is the terrorists getting a yield on their investment when they attacked this country and blew up the World Trade Center, that we're now fighting each other. This is making their day."
Sharif, who said he has been living in the US for 25 years and driving a cab for 15 years, on Wednesday seemed to blame the attack on the war of words over the Islamic center.
"Right now, the public sentiment is very serious," said Sharif, 43. "All drivers should be more careful." Javaid Tariq, cofounder of the New York Taxi Workers Alliance, which represents drivers, said the group believes the incident occurred because rhetoric about the proposed Islamic center has become "too hot," and asked politicians to cool it down.
"This incident happened because the Islamic center has become so big an issue," said Tariq. "Being a Muslim and having a beard is making us more vulnerable."
The blond and babyfaced Enright was arraigned Wednesday and formally charged with attempted murder in the second degree as a hate crime, assault in the first degree as a hate crime and criminal possession of a weapon in the fourth degree.
Enright was ordered held without bond. His next court date is Aug. 30.
According to police, Enright hailed Sharif's taxi at 24th Street and Second Avenue in Manhattan just after 6 p.m. Tuesday.
As the cab headed north on Third Avenue, Enright allegedly asked Sharif, who is of South Asian origin, "Are you Muslim?" Sharif says that after he confirmed he was Muslim, Enright attacked him. "He started yelling, 'This is a checkpoint, this is a checkpoint mother______, I have to put you down."
Enright allegedly slashed Sharif across the face, neck and shoulders with a folding Leatherman knife.
"I said, 'Please do not kill me,'" recounted Sharif. Sharif sustained five cuts in all, including defensive wounds to the arm and hand.
Police said Sharif was able to pull the car over and temporarily lock Enright, who had been drinking, in the back seat before summoning help. Enright was lying in the street blocking traffic when apprehended by an off-duty police officer.
Both Sharif and Enright were taken to Bellevue Hospital, Enright for psychiatric evaluation. Enright was classified as an EDP, an emotionally-disturbed person, at the hospital.
Enright had traveled to Afghanistan with an organization called Intersections International, a New York-based group that promotes itself as promoting justice and peace across lines of faith (and has come out in support of the Islamic cultural center's construction.)
In a statement, Intersections International said that the description of the alleged perpetrator of the attack matched someone who had worked with the group as a volunteer.
"Our hearts go out to the cab driver, his family and any person who has dealt with such unacceptable violence," said the statement.