Drone 'Stigma' Means 'Less Skilled' Pilots at Controls of Deadly Robots
Air Force: "They're all good pilots. There are degrees of good."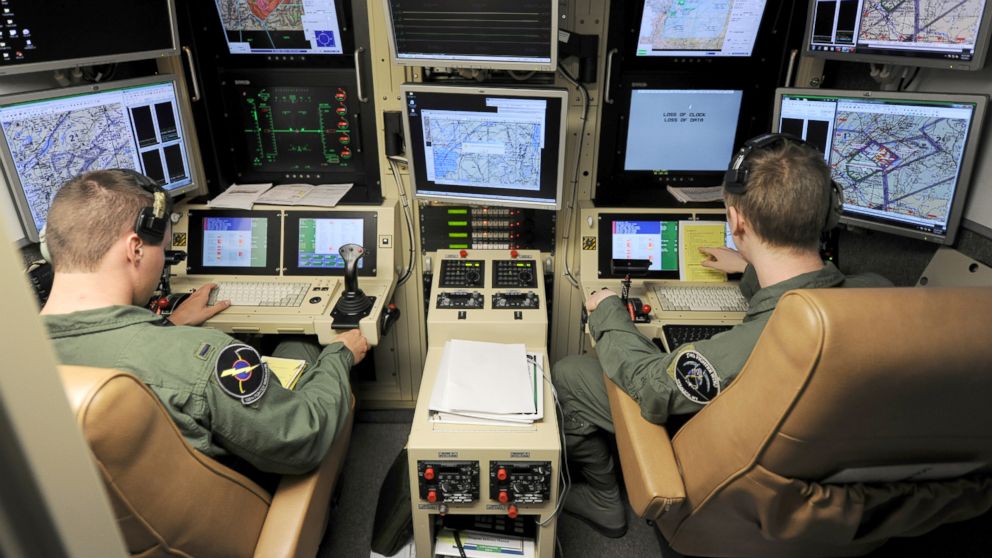 April 29, 2014 — -- The Air Force recently acknowledged that due to a "stigma" surrounding its drone program, many pilots at the controls of the deadly weapons are "less skilled" and officers overseeing them are "less competent" than their manned aircraft brethren, as alleged by the Government Accountability Office.
"Let's be honest, when people dream about flying… People in this generation didn't grow up and say, 'I want to fly an RPA [remotely piloted aircraft],'" Air Force spokesperson Jennifer Cassidy told ABC News last week. "They were the ones that watched re-runs of 'Top Gun' and said, 'I want to be a fighter pilot.'… So in fact the people that were lower ranking [in flight school], I guess you could say, are the folks that went to RPAs. It doesn't mean they were bad pilots, or bad officers, it just meant you got to have some at the top and some at the bottom. That's how that worked."
Cassidy's comments came in response to ABC News' questions regarding a report from the Government Accountability Office, released earlier this month, that said the Air Force has "faced challenges in recruiting RPA pilots since it began this career field."
The demand for drone pilots has exploded in recent years. While the Air Force had approximately 400 in 2008, the service now has more than 1,300, according to the GAO. The demand, however, is still higher and the Air Force has had trouble keeping up.
The GAO report says the Air Force has fallen well short in its recruiting goals for RPA pilots the last two years and nearly half of current pilots have been pulled from manned aircraft units or from manned aircraft training as temporary fill-ins. And the pilots that have been pulled over weren't necessarily the best.
"…Air Force documentation states 'lower quality pilots are generally sent to RPA [remotely piloted aircraft] squadrons,'" the GAO report says. "Headquarters Air Force officials and two commanders of manned-aircraft squadrons explained that commanders select pilots from their squadrons to assign to RPA squadrons and in general most commanders assign less-skilled pilots and less-competent officers to these squadrons."
Aside from commanders who pulled "less skilled" fighter pilots from manned aircraft units, Cassidy explained that, like in other services, when it comes to pilots who graduate fighter pilot flight school, the best in the class generally get to choose what aircraft they fly -- which in recent years included RPAs. Not many pass up slicing through the sky in an F-22 or F-16 for sitting in a sterile command center in, say, Arizona from which some drone pilots operate.
"The heat of battle is the heat of battle," Cassidy said. "And the mission is the same and saving lives on the ground is the same, but of course the adrenaline rush from flying a high-performance aircraft is definitely going to be different than flying a drone. Nobody is going to defend that."
As one Air Force serviceman involved in the drone program put it to ABC News, "Most pilots don't enjoy flying from a box."
The Air Force said it no longer pulls pilots to RPA programs from manned aircraft units and that now there is a "separate and distinct career field for RPA pilots who must meet stringent training requirements before earning their RPA wings, similar to pilots operating manned aircraft."
Beyond personal preference, however, the GAO reported that there is a "stigma" associated more broadly with the program – the idea that drone pilots are looked down upon because they're not in the cockpit of a plane.
Do you have information about this or a related story? CLICK HERE to confidentially send your tip in to the Investigative Unit.
Brandon Bryant, a former Air Force sensor operator who was one of the first to speak out about the difficult life of a drone crewman to GQ in October, told the magazine he and his teammates were often the butt of jokes, called "chair-borne rangers" who would "only earn a Purple Heart for burning themselves on a Hot Pocket."
RELATED: Pentagon to Consider Whether Drone Pilots Deserve Top Military Honors
The serviceman who spoke to ABC News said he has a relative in another service who lightheartedly makes fun of him in the same vein and said there is "definitely" a rivalry between drone pilots and those in manned aircraft.