A former undercover FBI informant who once told ABC News he could've stopped the Sept. 11 attacks is in custody in El Paso, Texas, after he allegedly tried to run over a police officer.
On Thursday, El paso police attempted to pull over Elie Assaad for speeding, according to an officer's complaint. Assaad allegedly refused to stop and instead led the police officer on a chase that ended up racing through University of Texas El Paso campus.
Eventually, Assaad did stop, but when the officer got out of his vehicle to approach Assaad's car, Assaad rammed him before taking off again as the officer opened fire on the car, El Paso police spokesman Darrel Petry told ABC News.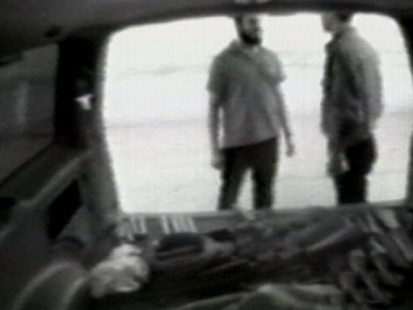 The chase only ended when Assaad flipped his vehicle on a nearby street. He was apprehended shortly afterwards.
Assaad, 38, has been charged with assaulting the officer, but Petry said police do not know why Assaad fled in the first place. No illicit materials were reportedly found in the car. At some point during the chase, a woman got out of Assaad's car and ran away on foot, Petry said. Though she was apprehended, the unidentified woman was released without charge. Public records show Assaad was married in January 2001.
Assaad did not mention he had worked with the FBI previously when he was arrested, Petry said. He's being held on $25,000 bond, according to public records.
Assaad has not retained an attorney as of this report, according to the El Paso County District Court. The officer involved in the case, identified by ABC News' El Paso affiliate KVIA as Jorge Gonzales, was treated for minor injuries and released from a local hospital.
Assaad told ABC News in September 2009 he had infiltrated terrorist cells outside Miami and had a chance to stop Sept. 11 hijacker Mohammed Atta before the 2001 attacks.
CLICK HERE to read ABC News' full 2009 report on Assaad.
Assaad: 'There Was Something Wrong With These Guys'
Assaad, who posed as "Mohammed," a personal representative of Osama bin Laden during his pre-9/11 stings, said he was a "million percent positive" the attacks could have been stopped if the FBI had let him go forward with meeting 9/11 hijacker Mohammed Atta.
"There was something wrong with these guys," said Assaad, a Catholic native of Lebanon.
But because Atta and his men were suspicious of him, Assaad said his FBI agent handlers sent him after the easier target -- two wannabe terrorists whose cases were easy to crack and who were both eventually convicted and sent to prison.
The FBI initially declined to comment on ABC News' initial report but released a statement which said, "The 9/11 investigation, the most extensive ever conducted by the FBI, has been reviewed in its totality by the 9/11 Commission, Congress and others. The claims made in the news report and the factual conclusions contained in the story are not supported by the evidence."
The FBI did not specify which claims or conclusions it referred to. Days after the Sept. 11, 2001 attacks, the FBI listed Atta as one of the hijackers who took control of American Airlines Flight 11 and crashed it into the World Trade Center.
Assaad told ABC News in 2009 that he told the truth and stands by his story.
The FBI's El Paso office did not immediately return requests for comment on this report.