Venture capitalists, Hollywood high rollers and Chicago billionaires were among a host of top Barack Obama donors invited to the administration's first White House state dinner last night, continuing a Washington, D.C. tradition of rewarding loyal and well-heeled supporters with access to influential movers and shakers, campaign finance watchdog groups said.
"This is very reflective of what has been in the past," Sheila Krumholz, executive director of the Center for Responsive Politics, told ABCNews.com. "These are typically very lavish occasions and a top ticket in Washington, so what better way to reward your top donors and bundlers than with a sumptuous affair."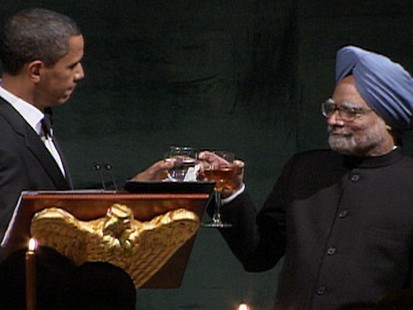 At least 30 top
Democratic
donors and bundlers received the highly-coveted invitations to dine and mingle with members of Congress, administration officials, celebrities and prominent Indian-Americans under a massive tent erected on the White House lawn especially for the dinner honoring Indian Prime Minister Manmohan Singh.
Campaign finance watchdogs said Obama's invitee list to his first state dinner follows a precedent set by previous Democratic and Republican administrations.
Inviting such high rollers is "nothing new," said Krumholz, who described it as a "time-honored tradition in Washington."
The list of donors represented three of Obama's key sources of cash – Chicago billionaires, Hollywood moguls and wealth financiers – as well as an emerging source of Democratic support, Indian-Americans.
CHICAGO BILLIONAIRES:
Among the billionaire elite from Chicago were Jim and Paula Crown of the powerful Chicago Crown family, which ranked #75 on the 2008 Forbes list of Richest Americans with an estimated $4.8 billion. They both raised at least $500,001 for Obama.
Also invited was real estate heiress and businesswoman Penny Pritzker, who was the national finance chair of Obama's campaign and raised at least $200,000.
HOLLYWOOD MOGULS:
The Hollywood power trio of Steven Spielberg, Jeffrey Katzenberg and David Geffen are longtime Democratic moneymen, each securing an invite to Obama's first state dinner. Krumholz calls them the "SKG trifecta."
Katzenberg and Geffen raised a minimum of $500,000 each for the Obama presidential campaign, while Spielberg raised between $100,000 and $200,000.
WEALTHY FINANCIERS:
James Torrey's financial contributions to Obama's political career also didn't go unnoticed last night. Torrey, the chief executive at the New York-based hedge fund Torrey Associates, raised at least $500,000 for Obama and was one of the President's earliest campaign supporters who hosted a fundraiser and book party for the presidential hopeful at his apartmennt.
Also there were San Francisco venture capitalist Mark Gorenberg and Miami attorney and notable Democratic fundraiser Kirk Wagar, who both brought in at least $500,000 for Obama.
Among other invitees to the lavish affair was Obama's longtime friend and top fundraiser John Rogers. Rogers, chairman, CEO and chief investment officer of Ariel Investments, raised at least $500,000 for Obama. His former wife, Desiree, raised at least $200,000 for Obama before being named the White House Social Secretary.
INDIAN-AMERICANS:
Obama also invited several prominent Indian-American businessmen who raised hundreds of thousands of dollars for the Democratic candidates' presidential campaigns.
Sant Singh Chatwal, one of the Indian-American community's biggest political fundraisers, backed Hillary Clinton over Obama during the presidential campaign. Chatwal, an entrepreneur who owns and operates hotels and restaurants in the U.S. and internationally, raised $2 million for the Clinton campaign at a single New York event two years ago.
Also invited was Vinai Thummalapally, Obama's former college roommate who the President appointed as the ambassador to Belize this summer after Thummalapally raised at least $100,000 for Obama.
Indian-Americans emerged as one of the most reliable demographics for Obama during the 2008 presidential election, voting for Obama nine to one and raising millions of dollars for his presidential campaign. Campaign finance watchdog groups said Democrats have spent years courting the Indian-American community, the most affluent ethnic group in America.
"This is an affluent community and an important one that the Obama campaign thought to address very directly," said Krumholz. "The Obama campaign in particular made specific overtures and fundraising activities for this community."
Individual Donors at State Dinner
Large individual donors at the dinner included Parag Saxena, formerly of Invesco Private Capital and now at New Silk Road Partners, who has given more than $150,000 to various Democratic organizations and candidates since 2004.
Krumholz said these donors and bundlers expect to be catered to and rewards are doled out "based on their generosity and commitment to politicians." For diplomatic occasions like state dinners, priority will go to diplomats, Krumholz said, but the elites will also gain access.
"For some donors it's a big ego thing, but for others it's business," said Krumholz. "What's troubling is that with access comes influence, which can be used to shape policy."
Several of the Obama fundraisers left the private sector to hold positions in the administration, including Fred Hochberg, formerly the dean of The New School for Management and Urban Policy, and the former Citigroup managing director Mike Froman, who now works for the National Security Council as Deputy National Security Advisor for International Economic affairs. Chicago lawyer Tina Chen, now the director of the White House's Office of Public Liaison, bundled more than $200,000 for Obama.
The Obama administration faced questions about its treatment of big donors after the Washington Times reported last month that the White House has offered special VIP perks to several top Democratic donors, including access to the White House bowling alley and special briefings with senior administration officials.
A White House spokesman responding to the Times report defended its practices saying that contributing "did not guarantee a ticket to the White House, nor does it prohibit the contribute from visiting."