On Thursday, four members of Congress sent letters of protest to the federal commissioners who they say weakened a safety law meant to prevent deaths from pool-drain suction, asking the commissioners to reverse their decision.
"We are sorely disappointed to learn that [the Consumer Product Safety Commission] has chosen to interpret the law in the most egregious and narrow way possible, eliminating the requirement for pools and spas to be equipped with back-up systems," say the identical letters.
"The swimming season is upon us. We are writing to you to urge you in the strongest possible way to reverse these rulings."
The letters, signed by Democratic Reps. Debbie Wasserman Schultz of Florida and James Himes and John Larson of Connecticut, and Republican Frank Wolf of Virginia, are the latest development in a pool-season push to get the CPSC to enforce what safety advocates consider the original intent of a law passed in 2007 to prevent deaths from drain suction.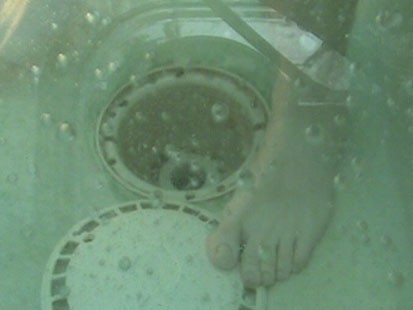 In March, the CPSC voted to interpret the Virginia Graeme Baker Pool and Spa Safety Act, named for a seven-year-old who died in a pool-drain incident in 2002, to no longer require back-up anti-entrapment systems in the drains of as many as 150,000 public and hotel pools and hot tubs.
The decision outraged pool-safety advocates and the parents of children killed by pool-drain suction.
Nancy Baker, mother of Virginia Graeme Baker, said she had read comments from the commissioners who voted to reinterpret the law. "They say the problem [of pool-drain suction] is small and rare. It's always been rare to die this way. But the bigger point is that it's preventable and it's a violent and horrible way for a small child to die. How many kids have to die or be maimed in that way for the CPSC?"
Members of Congress aren't the only ones putting pressure on the CPSC. Baker signed a June 9 letter from the group Safe Kids to one of the three commissioners who voted to interpret the law, Obama appointee Robert Adler, urging him to change his vote. Paul Pennington of the Pool Safety Council has also launched an on-line petition that targets Adler.
The letters signed by the four members of Congress went to Adler and the two other commissioners who voted to reinterpret the Act, Obama appointee Anne Northup and Bush appointee Nancy Nord.
Deaths From Pool-Drain Suction
The vacuum effect in pool drains is powerful enough to hold swimmers, especially children, to the bottom of a pool. Contact between human skin and a flat pool drain can create suction equal to hundreds of pounds of pressure. In one horrific instance, four adult men were unable to pull a young girl from the grasp of a deadly drain. Swimmers can die from drowning or evisceration.
CLICK HERE TO WATCH A GOOD MORNING AMERICA INVESTIGATION OF POOL DRAINS
From 1999 to 2008, according to CPSC data, there were 83 reports of suction entrapment, including 11 deaths and 69 injuries. Experts say the number of deaths and injuries may be much higher, however, because police and medical records don't always list specific causes for drowning.
Nancy Baker's daughter Virginia Graeme Baker died in a tragic spa accident in 2002. The 7-year-old granddaughter of former Secretary of State James Baker died in her mother's arms after she sat on the underwater floor drain of a hot tub.
"I kept pulling at her, never understanding what was holding her down and I couldn't pull her off," said Nancy Baker. "I opened my eyes underwater and there aren't words to describe what this is like," she said. The suction pressure holding her daughter down was later estimated at 700 pounds.
"I really wish it wasn't my daughter," said Baker. "But when she died [the issue] moved from the back pages of the newspaper to the front pages of the newspaper."
CLICK HERE TO READ ABOUT NANCY BAKER'S CRUSADE FOR POOL SAFETY
In December 2007, in a rare bipartisan vote, Congress passed the Virginia Graeme Baker Pool And Spa Safety Act to provide basic drain safety standards and layers of backup protection from dangerous drain suction for the nation's public and hotel pools and hot tubs.
The law mandates that drains in about 300,000 of the nation's public and hotel pools and hot tubs be covered with larger, rounded covers that do not create suction, and that there be a back-up mechanical system installed in drains to prevent suction in those pools that have a single main drain. As many as half of the pools and hot tubs covered by the Pool Safety Act have single main drains.
But new CPSC chairwoman Inez Tenenbaum asked for a review of the Pool Safety Act shortly after taking the helm of the commission last year, and called on representatives of the pool industry and pool safety advocates to make presentations to the commission. On behalf of the pool industry, pool equipment manufacturer Leif Zars argued that redesigned drain covers were enough to prevent pool suction accidents.
A majority of the CPSC commissioners agreed with the pool industry's position. Now public and hotel pools will not have to install a secondary anti-entrapment system in order to be in compliance with the Pool Safety Act's wording of "unblockable drain."
Baker and Karen Cohn, mother of a six-year-old who died in 2007, sent an angry letter to the CPSC just after the five-member commission's 3-to-2 vote.
"We urge you to reconsider and fulfill the intent of this important new law by installing the layers of protection that are required to mitigate-if not eliminate-incidences of drowning across this country." wrote Baker and Cohn. "There's too much at stake."
Pool safety advocates argue that larger, rounded drain covers are not enough. In the summer of 2007, Cohn's son Zachary got trapped by the suction of the drain in his family's pool in Greenwich, Conn. His parents were unable to free him before he drowned.
CLICK HERE TO READ ABOUT ZACHARY COHN
"The size of the drain cover didn't matter in Zac's case," said John Procter, spokesperson for the Pool Safety Council, a non-profit safety advocacy group. "What killed him was the fact that [the drain cover] came off and exposed him to the suction of the drain itself. That's why layers of protection are so important - and part of the law."
The Cohn case is highlighted by safety advocates because the Cohn pool was new and had updated drain covers, but the builder did not install "backup layers of protection" like safety shut off valves or suction-limiting systems-the issue at the heart of the conflict surrounding the recent CPSC reinterpretation vote of the Pool Safety Act.
"I was disappointed that the CPSC ruled against requiring layers of protection," said Rep. Wasserman Schultz, who introduced and pushed for the passage of the Pool Safety Act. "This ruling leaves children's lives only as safe as the first layer of protection, which leaves them vulnerable to human error and mechanical failure, with no further layer of protection."
The CPSC's decision even went against the position of Chairman Tenenbaum. "In my role as Chairman," Tenenbaum said, "I am not willing to gamble the safety of our children in the hope that drain covers throughout the nation that are commonly removed for maintenance always will be reinstalled correctly or that a missing or broken drain cover will be immediately noticed by an observant pool operator who will then shut down the pool before any children are at risk."
In a statement, CPSC Commissioner Anne Northup, who sided with the majority, said that the Pool Safety Act "primarily addresses the miniscule portion of drownings attributable to entrapments" and that "unblockable drain covers are at least equally as effective in preventing or eliminating injury or death from drain entrapments as the other systems described in this statute."
CLICK HERE to follow the ABC News Investigative Team's coverage on Twitter.
Kirstin Pires, spokesperson for the Association of Pool and Spa Professionals, a trade group representing pool and spa manufacturers, said her group was "pleased" with the CPSC's decision. "We like what happened," said Pires. "Now we can go about the important business of making sure every pool is in compliance."