Another coach embroiled in the sex abuse scandal that has rocked the nation's swimming world has been sentenced to 10 years after admitting he had a sexual relationship with a 14-year-old swimmer.
Indiana swim coach Chris Wheat, 37, pleaded guilty in May to two felony counts of sexual misconduct with a minor and one felony count of child solicitation. Investigators said the USA Swimming coach kissed and fondled the young girl in his coach's office and sent her hundreds of inappropriate text messages.
Wheat "groomed, seduced and sexually assaulted my daughter," the victim's father said in court Wednesday during a sentencing hearing. The girl said she thought Wheat "was someone I could trust, but I was wrong."
ABC News identified Wheat in April as one of 36 swim coaches banned for life from USA Swimming because of alleged sexual misconduct, as revealed in a "20/20" investigation.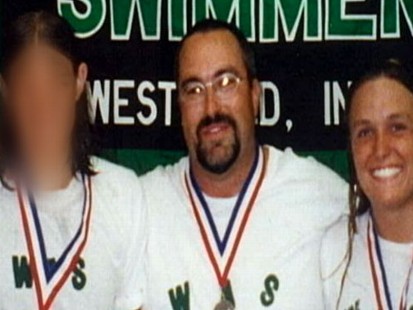 WATCH PART 1 of the 20/20 investigation.
WATCH PART 2 of the 20/20 investigation.
Prosecutors had charged Wheat with multiple sex crimes. Under his plea agreement, the maximum sentence he could receive was 10 years. He will serve eight years in prison and two in community corrections.
Facing Judge Carol Orbison in court, Wheat said through tears, "Please accept my apology. There is no excuse for my behavior. I accept full responsibility. I won't do this again."
The courtroom was packed with Wheat's former swimmers , many crying as they tried to show support for their ex-teammate, whose family has described her as emotionally damaged by the sexual abuse, which apparently began in September 2009.
CONTACT THE ABC NEWS INVESTIGATIVE TEAM IF YOU HAVE A STORY TO ADD TO THIS INVESTIGATION.
Wheat was the head coach of the Lawrence Swim Team in Lawrence, Indiana, where the girl started swimming at the age of 11. Her mother told police that she began seeing a difference in her daughter's behavior and then discovered inappropriate text messages from the coach on her daughter's cell phone last October, five weeks after the relationship began, according to investigators.
USA Swimming
When the victim's mother confronted her about the relationship, the girl revealed that Wheat had kissed her and fondled her in the coach's office at a local high school, according to the affidavit for probable cause.
Among the text messages were ones saying "I told you im the snuggle guy...luv to snuggle...windows open cold air blowing in and ur in my arms" and "Ur gonna end it soon aren't u"...."just hv a feeling ur gonna end it so u can b a normal hs kid."
"Wheat told [the young swimmer] that he loved her and would give up everything to be with her," according to the affidavit.
The family has retained a group of lawyers that is representing other alleged victims of sexual misconduct by USA Swimming coaches and is planning to file a civil suit against the organization, which is the governing body of swimming in the U.S. from beginners up to the Olympic team.
Thus far, there are five lawsuits facing USA Swimming for alleged sexual misconduct by its coaches. Its board of directors has approved new reforms to protect young swimmers across the country, including an athlete protection policy, additional screening of coaches and background checks for coaches, club employees, board members and volunteers, and mandatory reporting of sexual misconduct accusations by a minor to local law enforcement. However, these measures have yet to be implemented because USA Swimming says they must be voted on by the USA Swimming House of Delegates during its national convention this month.
CLICK HERE to follow the ABC News Investigative Team's coverage on Twitter.
Last month, the group of attorneys representing the majority of cases against USA Swimming decried a culture of covering up abuse that they said the organization fostered.
"It has now been over three months since USA Swimming was under intense national pressure to clean up this mess, and nothing has been done," said Robert Allard, an attorney now representing multiple former swimmers in suits against USA Swimming. "We are hereby calling for new leadership at USA Swimming -- a leadership that does not bend over backwards to protect pedophile swim coaches and does everything it can to eradicate sexual molestation from this great sport of swimming."