The USA Swimming coach accused of sexual misconduct with a female swimmer this week has been suspended from his Virginia swimming club and removed from the team's website.
"Occoquan Swimming has suspended Mr. Robert D. Mirande from coaching pending further investigation," the swim club in Manassas, VA confirmed to ABCNews.com.
Mirande and USA Swimming, the governing body for the U.S. Olympic swim team and hundreds of competitive swim teams around the country, were sued this week by a former female swimmer of Mirande's who alleges that between the summer of 2006 and the winter of 2007, Mirande "groomed" the young woman resulting in "inappropriate sexual contact" when she turned 18.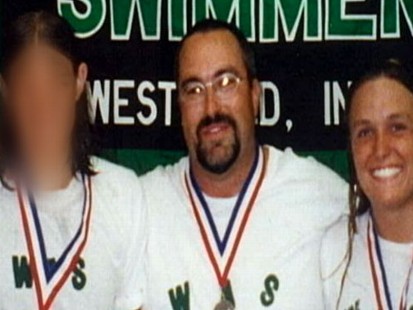 A recent ABC News "20/20" investigation revealed that some 36 coaches have been banned for life by USA Swimming over the last decade because of alleged sexual misconduct.
WATCH PART 1 of the 20/20 investigation.
WATCH PART 2 of the 20/20 investigation.
USA Swimming Addressing Sexual Abuse in the Sport
On Wednesday, USA Swimming announced that it is immediately implementing a "7-Point Action Plan" to protect its hundreds of thousands of youth swimmers across the country.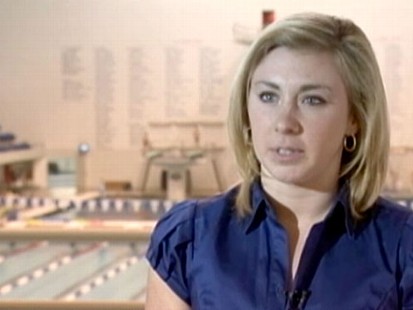 "We are taking decisive action today, but this is only the beginning," USA Swimming President Jim Wood said in a statement.
In an open letter, Wood and USA Swimming Executive Director Chuck Wielgus said the organization will develop new guidelines for acceptable behavior by coaches, enhance the reporting system for sexual abuse to both the organization and law enforcement, review its Code of Conduct, examine its background screening program, talk to member clubs about pre-employment screening, evaluate sharing coaching history records with swimming clubs and other youth organizations, and educate swimmers, parents, coaches and swimming club leaders.
"In recent days there have been a number of disturbing news reports about sexual misconduct between adult swim coaches and underage athletes," the letter said. "If you have seen or read these reports you have surely been as concerned as we have been. This is an issue that requires decisive action on our part."
CONTACT THE ABC NEWS INVESTIGATIVE TEAM IF YOU HAVE A STORY TO ADD TO THIS INVESTIGATION.
USA Swimming Coach Robert Mirande
The lawsuit filed in Missouri this week accuses Robert Mirande of using his trust and authority as a coach to perpetrate "sexual grooming, sexual harassment, sexual misconduct and sexual abuse" of the swimmer, whose parents said the relationship was not reported to police because she was no longer a minor.
Mirande did not immediately respond to request for comment about the suspension, but in a previous statement to ABC News strongly denied any sexual relations with the young woman.
The USA Swimming code of conduct prohibits coaches from engaging in sexual relationships with swimmers under their direction.
The suit, filed by the plaintiff's initials "L.A.S." to protect her identity, alleges USA Swimming allowed Mirande to move from a Kansas City swim club to the Virginia swim club, despite being informed of the alleged sexual misconduct.
The lawsuit claims USA Swimming "failed to enact and enforce adequate policies, procedures, regulations, and requirements to protect member athletes from inappropriate sexual contact" by coaches and "failed to timely investigate the reported incidents" of the alleged sexual misconduct with the swimmer, according to the suit.
USA Swimming said it is investigating the allegations against Mirande.
"Unfortunately, we have been unable to obtain critical information from the individual bringing forward the complaint, although other individuals with whom our investigator has spoken have been quite helpful," USA Swimming said in a statement earlier this week.
Lynn Johnson, an attorney representing the female swimmer in the lawsuit, said the family had been urging USA Swimming to investigate the coach for months, but "Nothing happened until the impending "20/20" show."
CONTACT THE ABC NEWS INVESTIGATIVE TEAM IF YOU HAVE A STORY TO ADD TO THIS INVESTIGATION.
Occoquan Swimming
Also named as a defendant in the suit is Aaron Dean, Mirande's former immediate supervisor at the Kansas City swim club and currently a registered USA Swimming coach at the Virginia swim club that is suspending Mirande.
According to the suit, Dean "knew or should have known of Mirande's acts of inappropriate sexual conduct" and therefore "acted in consort, aided, abetted and/or encouraged" Mirande's violation of USA Swimming's Code of Conduct which prohibits sexual contact between coaches and athletes.
In an email to ABC News, Dean "adamantly" denied the charges against him and said, "I am interested in learning more about the suit, who filed these erroneous claims and what they are seeking from me."
Dean, Occoquan Swimming, and the club's president Brad Hughes did not immediately respond to ABCNews.com about Mirande's suspension.
Also named as defendants are Missouri Valley Swimming, one of the country's 59 local swim committees, and the local swim club Kansas City Dolphins, for, among other allegations, failing "to provide an environment that is safe and free from inappropriate conduct from registered US Swimming coaches." The general manger of the Kansas City Dolphins, Robert Sturman, said he had not been served with the lawsuit and was unaware of its allegations.
Shortly after the ABC News investigation, USA Swimming Executive Director Chuck Wielgus said he was "extremely sorry if our organization has not done enough to provide the highest level of child protections safeguards and guidelines."
Wielgus announced that the organization is working to establish an anonymous abuse reporting hotline for swimmers and is considering a 'Black List,' which would publish the names of USA Swimming coaches banned for sexual misconduct.
CONTACT THE ABC NEWS INVESTIGATIVE TEAM IF YOU HAVE A STORY TO ADD TO THIS INVESTIGATION.
Click Here for the Blotter Homepage.