Beware Super Bowl Scams
Authorities are warning the public to be on the watch for Super Bowl scams.
January 25, 2014, 7:46 AM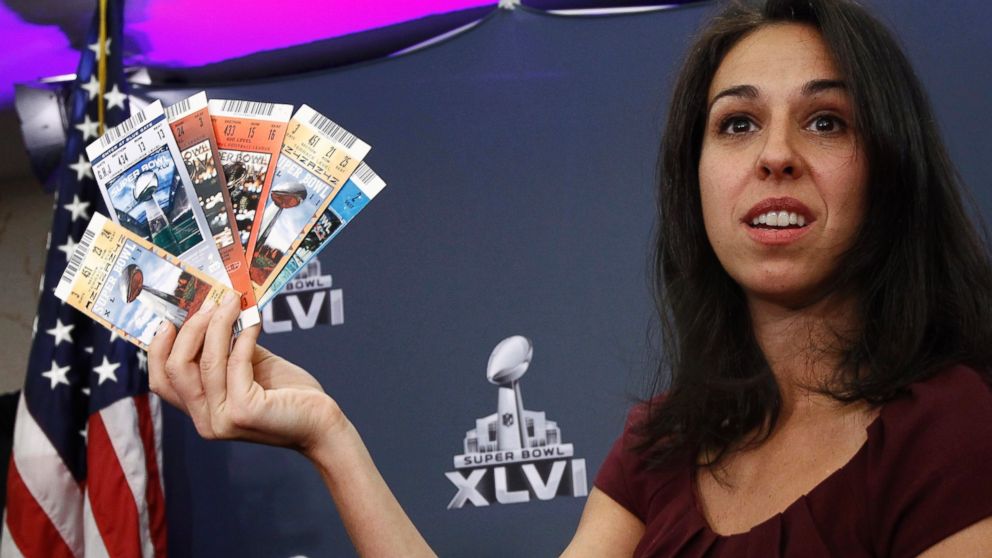 Jan. 25, 2014 -- intro:
You've been warned: As Super Bowl XLVIII draws near, federal and state agencies are speaking with one voice, warning consumers about Bowl-related scams. Everybody from the Federal Aviation Administration to the office of New Jersey's Attorney General has released fact sheets telling you to beware.
And yet, officials admit, there haven't been any big scams perpetrated -- at least not so far.
"We haven't received any complaints at this point," says Neal Buccino, a spokesman for New Jersey's Division of Consumer Affairs. There's no indication yet whether this Super Bowl is going to be any better or any worse than previous ones." Nonetheless, he and other watchdogs are publicizing the many ways the Bowl-loving public can be tricked and defrauded.
"We're being proactive," Buccino tells ABC News.
Referring to scams, Jason Berger, president of the National Association of Ticket Brokers, or NATB, tells ABC News that fraudsters come up with new and different dodges every year, for every Super Bowl. While it's impossible to predict what the twists will be this year, the basic precautions remain evergreen:
Check a seller's Better Business Bureau rating. Get a receipt for anything you buy. Pay only with a credit card, whenever possible (it's easier to get reimbursed later).
Read More: Over-the-Top Super Bowl Experiences
"You have no recourse unless you use a credit card," Berger warns. Does the seller have a business license? Is he registered with his state? In the case of ticket brokers, are they NATB members? All NATB members offer a 200 percent refund if the tickets sold turn out to be invalid or don't arrive in time.
If something sounds too good, be suspicious, says Berger. If somebody is pressuring you to buy, don't.
Here's a sampling of the many ways you can get fleeced, and some advice to make sure that doesn't happen.
quicklist:category: title: Ticket Scamsmedia: text: The varieties of ticket scams are endless: A seller can sell you nonexistent tickets, or he can sell tickets that are counterfeit. While the NFL prices premium seats at $2,500, the New Jersey Division of Consumer affairs says hundreds of tickets are currently offered online at prices ranging from $3,000 to more than $24,000.
With that much money at stake, be sure to investigate thoroughly the person or entity offering to sell you a ticket.
Look for online reviews of the seller on sites other than the seller's own. Make sure the seller is registered with the state in which he does business; that he has a business license; and that his rating with the Better Business Bureau is good. Call the state department of consumer affairs in New York or New Jersey to see if there are complaints against the seller.
Inspect tickets visually. Berger of the NATB recommends that buyers ask to see a photo of tickets in advance of purchase. Every year's tickets are a little different in appearance, with holographs and different colors for different price levels. "Counterfeiters are getting better and better," Berger warns. If you're suspicious of the tickets, he says, contact the NATB or the NFL, both of which can determine (for free) their legitimacy.
Look at the serial numbers on the tickets, Berger says: All the numbers should be different from one another, and not just by a few digits. Usually, according to Berger, the numbers are completely random, so if you're buying two adjacent seats, don't expect the serial numbers to be consecutive. If they are, that's a tip off that someone's trying to scam you.
Ask for the section, row and seat number: That way you can determine if the seats actually exist, and whether they have an unobstructed view.
Some ticket broker websites offer to refund or replace tickets if they turn out to be counterfeit or are otherwise rejected. Find out whether such a guarantee is offered. Brokers who are members of the NATB offer a 200 percent guarantee if the tickets are invalid, Berger says. Find out if the seller is a NATB member.
quicklist:category: title: Apartment or Home Rental Scamsmedia: text: Many people traveling to the Super Bowl are seeking lodging other than hotels. "Whether you are a prospective tenant or a prospective landlord, you should protect yourself," warns the New Jersey Division of Consumer Affairs.
Con artists, says the Division, have been known to pose as property owners, and to place online rental ads that turn out to be fraudulent. The ads may look genuine because they might have been copied and pasted from legitimate listings. The scammer may use the address of a real property that is being listed online by its real owner.
Read More: Family Pays For Vacation Home That Isn't For Rent
The fraudulent "landlord" will usually ask the prospective tenant to wire money for the security deposit, the consumer group warns. When the renter arrives, he or she may find that the property is unavailable -- or doesn't exist. If possible, arrange for someone in the area to physically inspect the property and meet the owner before you make a deposit.
Some con artists scam owners. One common trick is to send a check or money order for more than the required amount, then ask the landlord to send back a check for the excess, the consumer group explains. The scammer's check or money order turns out to be a fake but is good enough to fool the landlord's bank temporarily when he deposits it. Your online account may at first show the check is deposited and the money available. Only later will the fraud be discovered. If you choose to accept a check or money order, do not withdraw any money or take further action until a bank representative can personally assure you the check has cleared and the money really is available.
quicklist:category: title: Travel Scamsmedia: text: Fraudsters, in advance of past Super Bowls, have sent out emails informing recipients they have won a contest whose prize is $100,000 and two free tickets to the game, according to the New Jersey Division of Consumer Affairs. Recipients were asked to send in $3,000 to cover the taxes on the prize. The emails included an NFL logo that was copied from the NFL's official website. No prize existed.
Under New Jersey law, according to the Division, advising consumers that they have won a prize, then requiring them to take some action to claim the prize, is illegal.
Read More: Free Airline Tickets: Scams, Rackets and Rip-offs
The Federal Aviation Administration warns, "Air travelers going to Super Bowl XLVIII should be aware that all tour packages do not include tickets to the Feb. 2 game in New Jersey." It cautions travelers that if a game ticket is not mentioned specifically in advertisements or other solicitation materials, or listed as a tour feature, the ticket is probably not included.
Under Department of Transportation rules, any tour operator whose package offers tickets must either have them in hand or have a written contract for them before he advertises. Under Department of Transportation rules, if a tour was described as including tickets and you do not receive them, you are entitled to a full refund of the entire package price, even if you have already traveled to the city where the game will take place.