Will That $700 Winter Jacket Keep You Warmer?
Is a Canada Goose down coat worth $700?
January 22, 2014, 7:46 AM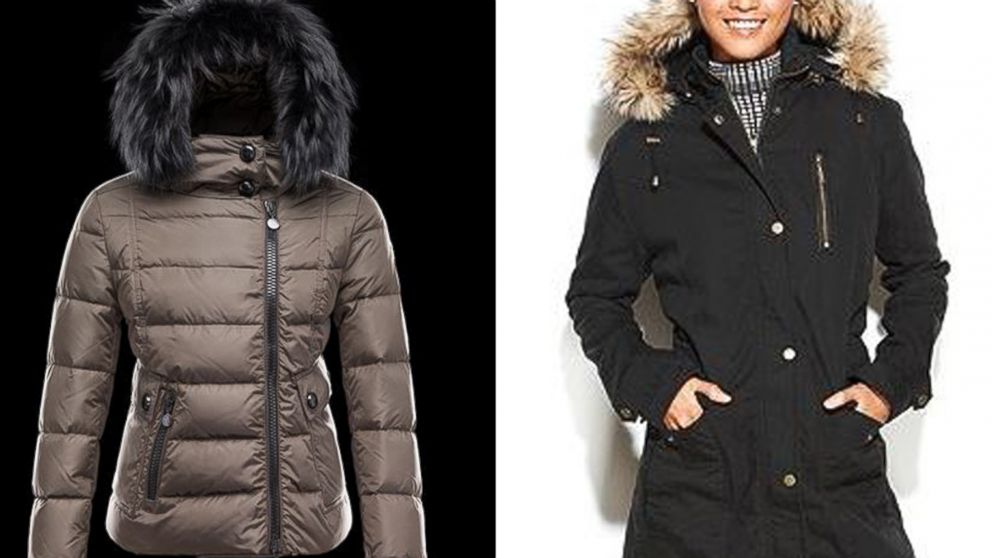 Jan. 22, 2014 — -- intro: To stay warm in an extreme snow storm or a polar vortex, does paying more, upwards of $500, for a jacket mean you'll stay warmer?
Possibly. But paying more may also lead to online ridicule on websites like these that compile photos of people wearing these pricey coats on the street.
Can you tell the difference between a $169.99 Rachel Roy Coat and a Moncler parka that is listed for $1,525 online? The Italian luxury brand first produced polar expedition gear and now shows its coats on catwalks. The company touts on its website that all its manufacturing occurs in Europe, with zippers in Switzerland and only the finest down that is both light and warm.
But people wearing these expensive coats, like $600 Canada Goose jackets with coyote fur lining on the hoods, may get the last laugh since their gear typically lasts longer, said Sam Moulton, executive editor with Outside magazine. Canada Goose comes with a lifetime warranty, so the company says it can fix manufacturing defects, including excessive seepage of down.
In Photos: Second Snow Storm of the Season
"Canada Goose makes a really high-quality jacket," Moulton said. "Maybe it's not your style, especially if you don't like fur, and that's fine. I think a lot of people think the fur lining around the coat is for show, but it's actually not."
Canada Goose says on its website that it doesn't use "faux" fur because it "does not act in the same way that real fur does to protect skin from frostbite. Fur trim around a hood works to disrupt airflow and create turbulent (warm air), which protects the face from frostbite."
"Our jackets are known for being the best and warmest in the world and they are made to last for generations," Canada Goose spokeswoman Carrie Baker told ABCNews.com. "They are all hand-crafted in Canada and we use the finest materials to provide the ultimate protection from the elements.
Canada Goose declined to comment about the Tumblr site.
Read More: 13 Things You Didn't Know You Needed to Survive the Polar Vortex
Moulton said jackets from "high-quality" manufacturers like Canada Goose, LL Bean, North Face, or Marmot, are probably going to last longer than other brands sold from big-box stores. He said higher quality insulation is important for durability.
"Insulation can get matted, shift around and create cold spots if the fabric itself is not high quality. If the down isn't stitched in well, you will lose insulation. It happens with normal wear and tear but can happen faster with a lower quality jacket," he said.
Jordan Wand, vice president of product and marketing for apparel brand Outdoor Research, said "without a doubt," you get more if you pay more for a winter jacket due to the "best technologies."
"That said, there's no silver bullet. The jacket you buy very much depends on how you plan to use it, so you can pick a jacket and its related technology based on where you live and how you plan to use it," Wand said. "Do you encounter a lot of moisture? Or is it dry? What kinds of things will you be doing when you're wearing the jacket? Maybe you need one of the more expensive technologies, and maybe a more basic insulated jacket will do the trick for you. It's all about your environment and what kind of thing you'll be doing in it."
Wand points to Outdoor Research's $325 "Floodlight" jacket, which provides insulated 800-fill down and a waterproof, breathable exterior, which keeps the insulation dry.
"A huge component to staying warm is staying dry. So if your insulation stays dry, you stay warm," he said.