As many retail sectors struggle to stay in the black this holiday shopping season, one area is already destined to end up showing steep sales declines. Sales of video games and consoles, which posted stellar returns the past two years, are set to show double-digit declines when the final numbers are tallied, industry analysts say.
Despite the blockbuster release of "Call of Duty: Modern Warfare 2," which sold 6 million copies in the United States, sales of video games and consoles fell 7.6 percent in November from the same month in 2008, according to research group NPD.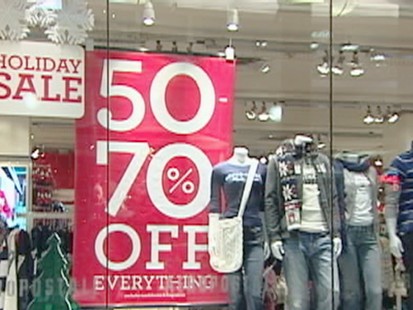 The game industry posted $2.7 billion in sales last month, down from $2.9 billion a year earlier, NPD figures show. "It's a notable decline," NPD analyst Anita Frazier said.
Sales numbers are even worse for the year. "The industry is still trying to find a silver lining," she said
From January through November, the video game industry suffered through a 12 percent drop in sales from the same period last year, reaching $14.1 billion.
Despite a surprisingly strong retail sales season overall, most experts don't expect to see a turnaround in games sales during the holiday crush, when video game companies typically take in about 40 percent of their annual sales.
"No one should think that year-end sales will surge during the holiday season," said
Jesse Divnich
, an analyst with Electronic Entertainment Design and Research. "Video games sales will be down for the year."
The picture would have looked much worse if it were not for "Call of Duty: Modern Warfare 2". The wildly popular game accounted for roughly $360 million in U.S. sales in November alone, more than 25 percent of all game sales. Other top sellers in November included Assassin's "Creed II, Left 4 Dead 2" and "Dragon Age: Origins."
Sales of music-based games, such as the "Beatles: Rock Band" and "Guitar Hero 5," have also lagged, according to sales data.
The economic turmoil cutting into consumer spending appears to be only part of the reason video game sales are down.
The larger problem, say observers, is innovation -- or lack of it. Although core audiences for video games remain strong, fewer new games to the market are luring casual players. The result: Sales of new games simply haven't met expectations.
Hits and Misses
"What made 'Guitar Hero' and Wii exceptional is that they had broad appeal and attracted millions of new customers who wouldn't normally play video games" analyst Divnich said. "That helped drive sales to record levels the past two years and we're just not seeing that this year."
The music-game category raked in $1.4 billion in revenue last year, according to Wedbush Morgan Securities, driven largely by sales of "Rock Band 2" and "Guitar Hero World Tour."
But this year experts predict the category will make half that -- about $700 million -- despite such high-profile releases this fall as "The Beatles: Rock Band," "Guitar Hero 5," "DJ Hero" and "Band Hero."
Few people expected the video game industry to keep the level of record-breaking sales achieved the past two years. The sector grew by more than 30 percent in 2007 and notched better than 25 percent in 2008. according to data compiled by Electronic Entertainment Design and Research.
Still, not all areas of the video game industry are suffering. "Call of Duty: Modern Warfare 2" is on track to bring in more than $1 billion in retail sales worldwide, according to a report by Lazard Capital Markets.
And although Wii sales aren't as strong as a year ago, game maker Nintendo is still posting a solid 2009.
A list of the year's 10 bestselling games through the end of November shows titles for the Nintendo Wii and DS filling six slots with 15.5 million units sold, more than 58 percent of the list's total sales.
But to re-create the strong sales of the past two years, video game makers will need more innovations, analysts say.
Some of the games on the horizon with big expectations include one in the works from Dahni Harrison, the son of the Beatles' George Harrison and developer of "Beatles: Rock Band."
Harrison is reportedly working to create a version of "Rock Band" that will teach players how to play guitar rather than just simulating the experience.
And Microsoft is said to be close to launching "Project Natal," a motion-sensor game controller for the Xbox that uses a motion-capture device.
High Hopes for 2010
"There's real promise in some of the new games," said Divnich, the analyst with Electronic Entertainment Design and Research. "But for the industry to show real strength again, these newer games will need to connect to a broader audience."