Judge Mitchell Beckloff approved a $60 million dollar movie deal between the Michael Jackson's estate and the promotor of a concert planned before his death, which features footage of the singer's final performances.
The decision was made during a hearing concerning the singer's estate.
The administrators of Jackson's estate are exploring all kinds of deals to benefit the pop star's estate, including distribution rights to Michael Jackson-branded products, that could help compensate for Jackson's legendary debt and any losses by concert promoter AEG Live. AEG paid $30 million for a series of concert Jackson was scheduled to play in London later this year.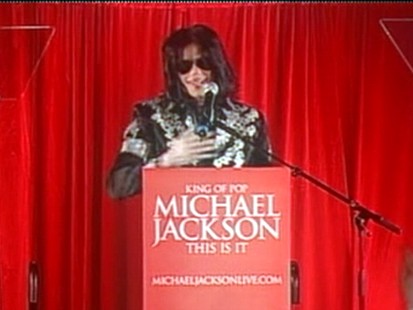 Under the terms of the proposed contract, the film will have to be screened for Jackson's estate and cannot include any footage that puts the superstar in a bad light, according to The Associated Press.
Columbia Pictures paid $60 million for rights to the film, and the contract states Jackson's estate is slated to receive 90 percent of its profits.
Katherine Jackson did not object to the film, but her attorneys have raised questions about other agreements concerning AEG Live and merchandiser Bravado, according to the AP.
Lost in the paperwork surrounding Jackson's death and estate is the remarkable resolve of Katherine, the family's 79-year-old matriarch.
Last week Beckloff awarded her permanent custody of Jackson's three young children, with whom she will share 80 percent of Jackson's estate.
As insiders debate Jackson's true worth, Katherine is also putting in place plans for who will get custody of Jackson's children when old age inevitably keeps the family's matriarch from being able to care for them.
The executors of Jackson's will estimate that the king of pop's fortune is worth more than $500 million, but it remains to be determined just how much he is really worth.
"You know there's a tremendous debt. There's a lot of misinformation as to whether his estate is $2 billion. It's not. It's $400 million in the hole. So it's going to take a little hard work and tact and people with knowledge to get it out of that. It's possible," said Jackson's manger Frank Dileo.
The Los Angeles coroner has yet to release a toxicology report officially determining Jackson's cause of death, but investigators have said drug use played a major role.
How Jackson died raises questions about whether the insurance policy taken out on Jackson by AEG will pay for a death related to what the policy calls "illicit use of drugs."
While Dileo claims Jackson's debt cancels much of his worth, the Jackson family believe the singer's estate is worth billions of dollars and wants more control of it.
The Size of Michael Jackson's Estate Is in Dispute
Katherine's attorney Londell McMillan told CBS that the estate "is worth, in my estimation a couple of billion dollars. You hear $500 million. Don't buy it."
Dileo disputes that math. Even with Jackson's ownership of the Sony/ATV catalogue that it includes rights to Beatles' songs "he's still in debt. If you sold it and subtracted the $400 million you still will come out with $300 million maybe… There's a way to work your way out of it."
Regardless of the true size of Jackson's estate, most of fortune will go to Katherine and the children.
With so much money on the line and lives of three children at stake, many have wondered what will happen if Katherine gets sick or dies.
At 79, Katherine Jackson is considered the family's rock.
Born in Alabama, but raised in Chicago she suffered from polio as a child which left her with a noticeable limp. She was pregnant or caring for young kids from 1950 until 1966 in which time she gave birth to 10 children.
Times were tough as the Jackson family made ends meet in Gary, Ind., in the years before the Jackson 5 signed with Motown in 1969. After they hit the big time with four successive No. 1 hits the entire Jackson family moved to California, settling into a gated mansion in Encino. They called the mansion "Havenhurst" where Katherine lives to this day.
According to court papers filed in order to get an allowance to care for Michael's three children, Katherine was described as " financially dependent upon Michael Jackson and that other than extremely modest social security benefits, Mrs. Jackson has no independent means of support."
Longtime family friend Steve Manning says Katherine is "a healthy, strong woman of great faith."
Katherine and Joe have had their share of problems. Katherine acknowleged as much in her memoir "My Family" published in 1990. The couple remain married but Joe spends most of his time at his Las Vegas home.
Sources close to the family confirm that the family matriarch is a very healthy woman. Katherine has often spoken of her faith -- she is a Jehovah's Witness -- as a guiding force. Katherine has said she wishes her children were more religious.
Rebbie Jackson Could Get Future Custody
But Rebbie Jackson, Katherine's oldest daughter and probably the most private member of the family is the one exception.
She, along with her husband Nathaniel, are devout Witnesses. The couple are considered to be the most stable and reliable members of the family, according to insiders close to the Jacksons.
They have taken an increasingly high profile role in Katherine's life as well as the rearing of Michael's three children since the singer's death.
If anything happens to Katherine, sources close to the family say, it will be Rebbie and her husband who will raise the children baring any objections from Debbie Rowe, who is the mother of Jackson's two oldest children.
Sources close to the family say that one of the reasons Katherine was trying to be named an executor of the will was so that she would have a larger say in what happens to Michael's fortune if something should happen to her. Those sources say that Rebbie would be the person Katherine would put her trust in to carry out Michael's wishes.
Rebbie is currently living at Havenhurst while her husband finalizes plans for them to move from Las Vegas to California. In what may be one of the silver linings of Jackson's 2005 criminal trial, the Jackson children actually got to know their aunts and uncles in a way they probably wouldn't have.
Michael never spent a great deal of time with his family in the last 10 years of his life, outside of talking to his mother, but the entire Jackson family came to court to support him and spent time at Neverland with the kids during the five month trial. While Rebbie didn't appear in court much, she did spend time at Neverland according to sources and got to know Prince Michael, Paris and Blanket.