The Biggest Winners From the Alibaba (BABA) IPO
Shares of the Chinese tech company began trading today under the ticker BABA.
September 19, 2014, 4:42 PM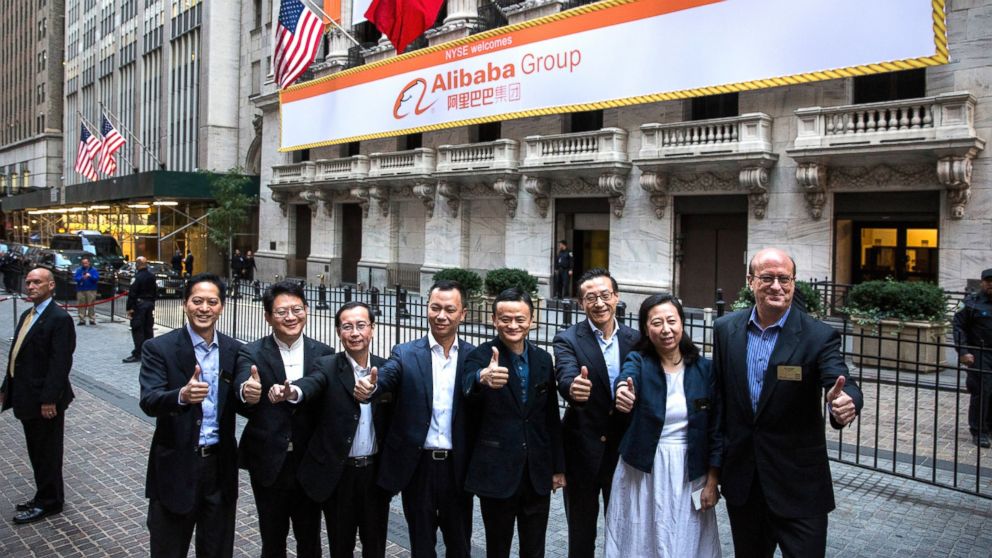 — -- intro: The spirits of Alibaba's biggest shareholders were soaring today along with the Chinese company's stock in the biggest IPO ever.
Alibaba's stock, traded on the New York Stock Exchange under the ticker "BABA," was priced at $68 a share last night. It closed today at $93.89, up 38 percent. The IPO is a boom to the workers at Alibaba's headquarters in Hangzhou, China, as well as its early partners.
Alibaba: Why A Company You've Never Heard of Is Expected to Have the Biggest IPO Ever
Here's a look at some of Alibaba's biggest winners:
quicklist:title: Yahoo!category:media: 25631492text: Aaron Boyd, of compensation research firm Equilar, said Yahoo! won through an investing partnership that dates to 2005. Next, Yahoo! CEO Marissa Mayer will help decide how to spend the $3 billion or so gained.
Apple's iOS 8 Is Here: What to Do About That Pesky Storage Problem
How MacArthur 'Geniuses' Spend Their Money
"Yahoo's ownership in Alibaba has certainly helped their own share price, and all holders of Yahoo! stock, including the directors and executives of Yahoo!, have benefited from Alibaba's success," Boyd said.
(Editor's note: ABC News has a partnership with Yahoo!)
quicklist:title: NYSE category:media: 25630562text: The NYSE is a big winner, according to Judith Carr-Rodriguez, president of brand agency Figliulo & Partners.
After the botched Facebook IPO in 2012, the NASDAQ and NYSE made sure the next media-heavy IPOs would be seamless.
"It's a tech brand coup for them against NASDAQ," Carr-Rodriguez said. "It points to the perception of foreign brands still needing U.S. approval. It's also a big moment for NYSE with their new management and ownership."
quicklist:title: Jack Ma category: Alibaba CEO media: 25630288text: Jack Ma, 50, is Alibaba's founder, CEO and now China's richest man. The billions he earned just today contributes to his net worth of more than $16 billion, says Forbes.
quicklist:title: Joseph Tsaicategory: Alibaba executive vice-chairmanmedia: 25630610text: Joe Tsai (left) was with Alibaba when it was founded in 1999 and has been executive vice-chairman since May 2013. Tsai made more than $1 billion today. According to Forbes, he's worth about $6.3 billion.
quicklist:title: Maggie Wucategory: Alibaba CFO media: 25630335text: Maggie Wei Wu has been Alibaba's CFO since May 2013. While her payout is unknown, she is certainly the highest-paid and most powerful woman at Alibaba.
quicklist:title: Masayoshi Soncategory: SoftBank Corp. CEO media: 25632922text: Masayoshi Son has been an Alibaba director since 2000, when SoftBank invested $20 million in Alibaba. The SoftBank founder and CEO is the richest man in Japan. Before today's IPO, the UC Berkeley grad was worth more than $19 billion, says Forbes. According to Alibaba's IPO prospectus, SoftBank will continue to own more than 30 percent of Alibaba's issued and outstanding ordinary shares after the offering.