— -- Los Angeles residents who want to hit the slots and poker tables may be able to travel to Las Vegas in about 80 minutes for just $89.
That's because a high-speed rail project that has tried and failed to gain traction with investors just signed on a Chinese company as a partner.
China Railway will join XpressWest for the project, with the hope of starting construction as early as September 2016. China Railway International USA, which announced yesterday it's investing $100 million in the project, is a consortium led by China Railway, the national railroad of the People's Republic of China.
"The project will immediately undertake all necessary regulatory and commercial activities to advance the reality of regional high-speed rail in the United States," according to a statement from XpressWest. "Implementation will begin within the next 100 days."
Called the Southwest Rail Network, the project aims to build a stations in Las Vegas; Victoriville, California; and Palmdale, California, with service throughout Los Angeles. The project has a price tag of about $7 billion, the Associated Press reports.
XPressWest, a private company in Nevada, has hoped to build a high-speed passenger railroad along the route since 2005.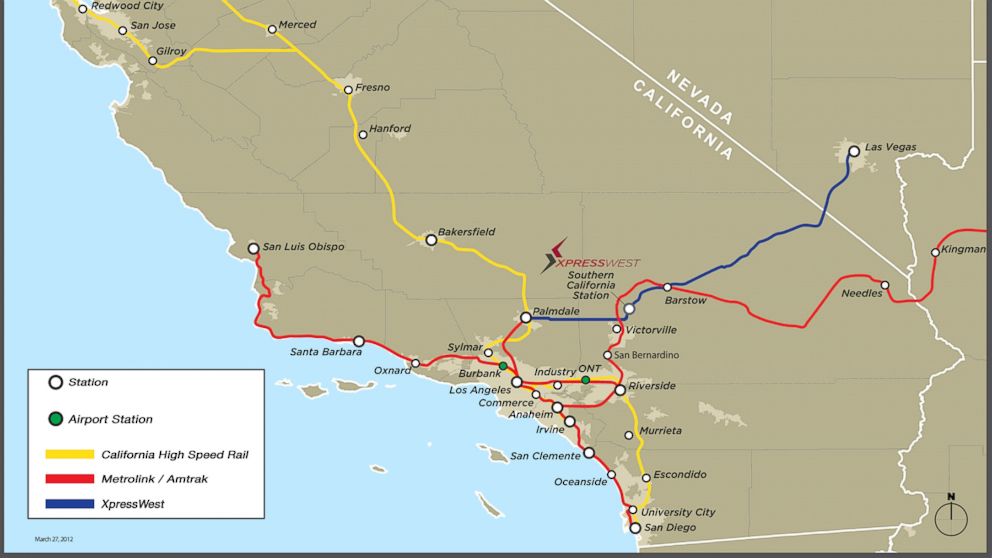 A spokesman for the company told ABC News the company is obtaining additional required regulatory approvals before commenting further.
The project will have a double track over about 185 miles within or adjacent to the I-15 freeway, with trains as fast as 150 miles per hour. The entire proposal encompasses 230 miles. The trains will have non-stop service every 20 minutes during peak times and up to every 12 minutes as demand requires, XpressWest's description of the project states.
The California High-Speed Rail Authority said it has not yet allowed XpressWest to use its right-of-way, but it has ongoing discussions with XpressWest to explore combining both systems, the Los Angeles Times reported.